So the company holiday party is next Friday in lovely posh Beverly Hills; it should be exciting since we have a lot more people working at our company now, all of them around the same age, and they are all pretty cool. And of course everyone is bringing their significant others, so I am sure it'll be a fun night! It's semi-formal attire and since I don't really own too many dresses, (I have like 2 semi-formal dresses, one doesn't fit anymore and the other I wore to LAST year's holiday party so that's a no, LOL), I ended up buying this silver number at the Ontario Mills Mall (the store is called Group USA in case you are also looking for a dress!). I bought it for $120 with tax, which is good considering I will probably wear it to my sister's Debutante Ball early next year (she is turning 18), and it's stretchy in case I gain weight LOL.

I am thinking to do either a smokey eye (since I don't wear anything like that to work) or maybe a silver/black eye....not sure yet I might have to play with looks this week...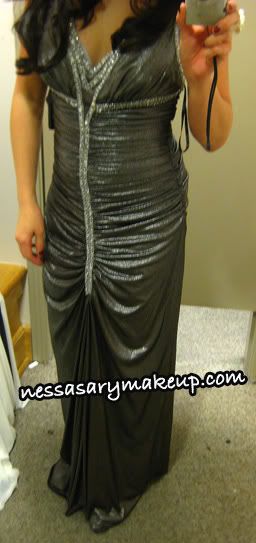 I really, really, really liked THIS dress, but the size 4 and 6 were TOO small on me since it seemed like their sizes ran really small (I couldn't even zip up the back!) and they didn't have any sizes after that...so it made my decision easier haha.



Anyway, here is a quick black and purple look I did the other day, it's similar to another look I did awhile back but I wanted to use "Scene" e/s and "Black Ore", whereas in the other look Milani "Storm" and "Shock" were the only colors I pretty much used...and of course I had to watermark my damn face!

Someone asked what I suggest for the BEST nude/pink lip? I like NYX's "Lilac Field" lipgloss, it's the perfect baby pink and can be layered on top of a nude lipstick for a bit of color (so you don't look too dead!), such as NYX lipstick in "Circe", "MAC "Myth" or "Fleshpot" l/s. A dupe for MAC "Scene" eyeshadow I suggest is Flirt! Cosmetics e/s in "Black Ivy".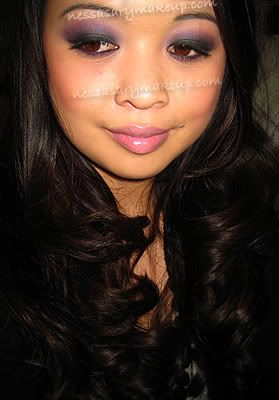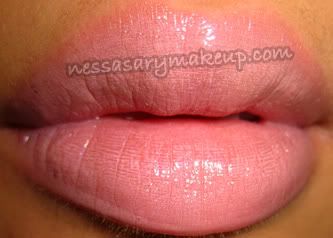 What I used:
[Face]
- Smashbox Primer
- Lorac Concealer
- Dior Forever Skin Liquid Foundation in "Medium Beige" (review coming soon!)

[Cheeks]
- MAC Blush in "Coygirl"
- Milani "Luminous"
- MAC MSF in "Petticoat"

[Eyes]
- Shespace Black Primer on lower half of the lid
- MAC "Scene" e/s on top of primer
- MAC "Black Ore" pigment clusters (optional if you want shimmer)
- MAC "Satellite Dreams" and Milani "Shock" on top of the black eyeshadow (crease)
- MAC "Gorgeous" e/s as highlight
- MAC Fluidline in "Blacktrack"
- Urban Decay Eyeliner in "Rockstar" on lower lashline
- MUFE Fiber Mascara
- L'Oreal Telescopic Mascara

[Lips]
- MAC l/s in "California Dreamin' (LE)
- NYX Lipgloss in "Lilac Field"