Yay! I finally did a look after sporting a bare/minimalist face for weeks...since I've been going to the gym mostly everyday in preparation to get "Hawaii Ready", I haven't bothered applying a full face. So I thought I would be a bit rusty, but I guess applying makeup is like riding a bicycle, you just never forget how to ride it! And THANK YOU to my lovely blogger sisters and friends for the birthday greetings! :)

So here is my "Style Warrior" face, granted I never bought any of the eyeshadows from this recent collection, I improvised with some of the stuff I already have so it looks similar. I used the "Refined Golden" bronzing powder to contour the cheeks and give me a natural sun-kissed glow (applied it like you would your blush on the hollows of your cheeks), then applied MAC "Nuance" Blush (LE) to the apples of my cheeks to bring it out more. I also used "Brave New Bronze" lipstick with the Milani gloss (from the duo set).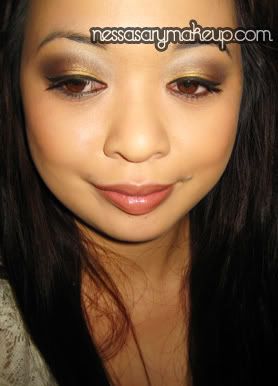 What I used:

[Face]
- MAC Skin + Base Face Primer
- MAC Studio Sculpt Concealer in NC30
- Buff'd Mineral Foundation in "Chamois" and "Almond" (mixed)

[Cheeks]
- MAC "Refined Golden" bronzing powder
- MAC "Nuance" blush (LE)

[Eyes]
- MAC e/s in "Goldmine" on lower half of the lid
- MAC e/s in "Flip" (LE) over Goldmine e/s
- Mix of browns such as Milani "Java Bean", MAC e/s in "Mulch", "Patina", "Magnetic Fields" and a dark brown eyeshadow from the holiday smokey eyes palette (the name escapes me right now) on the outer-V and contour
- MAC e/s in "Ricepaper" as highlight up till the brow bone
- MAC Fluidline in "Blacktrack"
- L'Oreal XXL Volume Mascara
- Urban Decay Eyeliner in "Bourbon" on lower lashline

[Lips]
- MAC "Brave New Bronze" lipstick
- Milani lipgloss in "Too Perfect"