I officially turned 27 years old on Monday. EEK! I can't believe I am almost 30. It seems like yesterday when I was dying to be 18 or 21 years old to do the "cool things". My dad called me to greet me and gave me the "So when are you getting married/having kids" talk, yada, yada, yada. "Only if it's Edward Cullen dad" Haha. The BF's mom gave me the same talk too! Getting married and having a family isn't happening anytime soon, LOL. I am too busy having fun and enjoying life, not to say that marriage and kids don't enhance that aspect because I DO want to be a mom and a wife eventually, but its fun to have these years to find new things about yourself, learn new things. For instance, I NEVER liked avocados or guacamole, and only recently I have taken a liking to them, to the point where I actually bought a couple of avocados at the grocery, cut them open, sprinkled some black pepper, lemon and lime, and a pinch of salt- and ate it as is. And it was delicious!

So turning 27 has this placebo effect on me where it's this sense of new beginnings in my life, look towards the positive, and just go out there and do something that is so outside yourself; outside your realm of habit and comfort.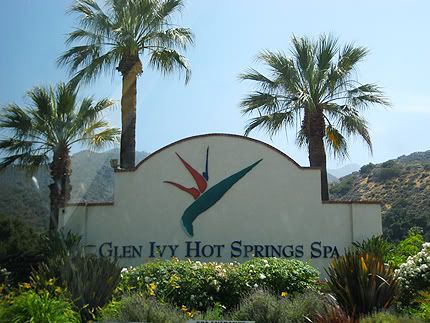 One thing I love when it's your birthday- are all the cool discounts and free things you get from random places; like Baskin Robbins (you get a free scoop of ice cream), Sephora, and you get in free to Disneyland! Even though the original plan was to spend my bday at Disneyland, the BF decided I could use a day at the spa instead which sounded A LOT better than Disneyland since I was dying for a massage. And because it was my bday I got in for FREE!

We didn't do the mud bath even though I was so tempted to, just because I didn't want to get dirty and deal with having to rinse that all off, so we stuck to the mineral baths, the pools, etc. Just enjoying the sun and getting a little color. Then we did a couple's Swedish massage which was A-M-A-Z-I-N-G! Seriously if you are looking for a great gift to give someone or to yourself, definitely go to a spa and get a massage! I did not want to leave!

The BF was just incredibly sweet, he got me a pink iPod nano to replace my really old one only held like 120 songs, so I am glad the new one can hold way more than that so I don't have to delete songs! And we had dinner at one of our "spots"- Red Lobster. Then dinner with a few friends on Sunday so it should be fun before the crazy schedule really begins.

Sadly I went back to work yesterday missing the spa terribly, and my co-worker Diana (who is seriously great at baking and making the best desserts) made me a chocolate raspberry cake with chocolate mousse frosting! It was sooooooo yummy I had to break my diet for it! LOL. And of course Edward was there too to help me enjoy my cake!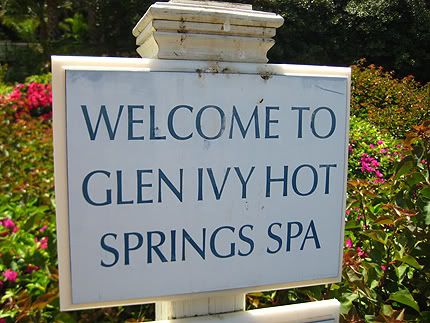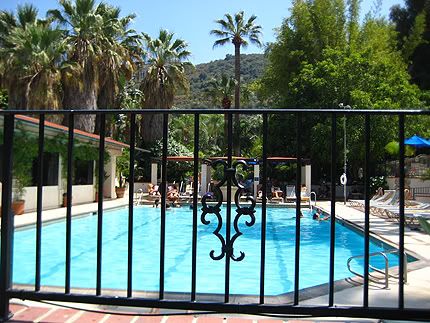 Pool ready: