I am so excited to announce the following!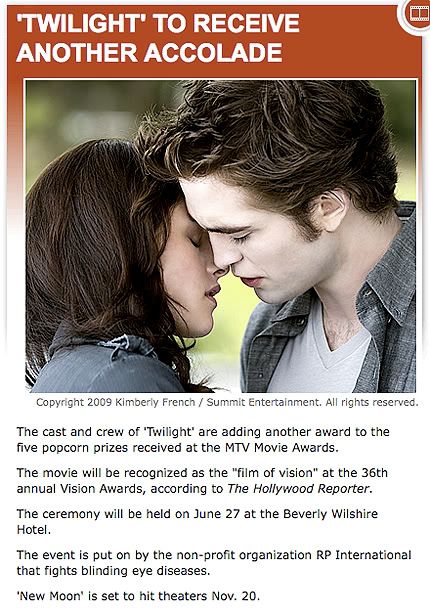 I will be attending the 36th Annual Vision Awards (www.visionawards.org) on Saturday July 27th at the Beverly-Wilshire Hotel; all proceeds go to help fight Retinitis Pigmentosa, an eye disease that causes blindness and other degenerative eye diseases. Tickets are $200 which includes dinner and entertainment, while mingling with a few notable celebs, and hosted by Larry King.

......the BEST part?!!! Ready???

"Twilight" producers as well as the movie are being honored as the "Film of Vision", and my friend who works for RP International (who is producing this red carpet gala event) told me that there is confirmed appearances by some of the Twilight cast such as: Ashley Greene, Billy Burke, Taylor Lautner, and Peter Facinelli.

I AM SOOO EXCITED!!! To even meet one of them is insane! And you are helping a good cause! So if ANY of you ladies are interested in attending this event, let me know! Again each seat is $200. You can view the invitation here: CLICK HERE. And hey! We can also meet! :)

Others that will be honored and recognized:

FILM
THE CURIOUS CASE OF BENJAMIN BUTTON
INGLOURIOUS BASTERDS
SEVEN POUNDS
TWILIGHT
VALKYRIE

TELEVISION
DAMAGES
GREY'S ANATOMY
MAD MEN
RECOUNT
TWO AND A HALF MEN

Here is my invitation!