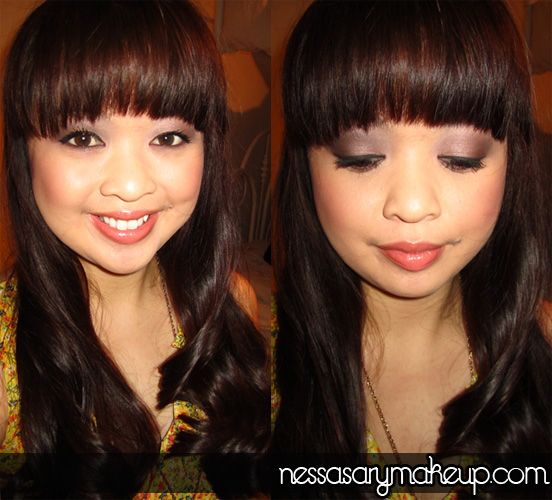 Thought i'd do a look using my "Jazzed" lipstick for the first time that I got last year from the 'In the Groove' collection, I love this lippie! Paired with "Queen Bee" lipgloss from the 'Naked Honey' collection, it's the perfect toasted-peachy color.
Wore this look to work...
What I used:
[Face]:
- MAC Pro Longwear Concealer in NC20
- MAC Pro Longwear Foundation in NC35
- MAC Sheer Pressed Powder in NC35 (to set foundation, applied with stippling brush)
[Cheeks]
- "Emote" blush for contouring
- MAC "Stereo Rose"
[Eyes]
Used Urban Decay Naked Palette
- "Toasted" eyeshadow mixed with "Sin" on lower half of the eyelid
- "Hustle" and "Darkhorse" on outer corners and crease
- "Virgin" e/s and MAC "Bisque" e/s as highlight
- Urban Decay e/s in "Whiskey" on lower lashline
- MAC Fluidline e/l in "Blacktrack"
- L'Oreal Telescopic Mascara
[Lips]
- MAC "Jazzed" lipsticke (LE)
- MAC "Queen Bee" lipgloss (LE)