A reader requested I do a look using the "Princess Caraboo" eyeshadow from my lime crime post a few days ago, so here was a look I did this morning. Oddly enough it looks like a green look I did a few posts ago but used totally different products for this look, goes to show that there are so many dupes out there!

The BF was sweet enough to get me some pepper spray for protection, LOL and it's PINK! I didn't even know they came in colors! Years ago I had one, but it was all black...so I GUESS he's in some ways like Edward, always trying to protect me, PUHAHAHA!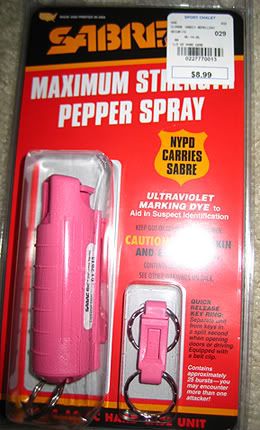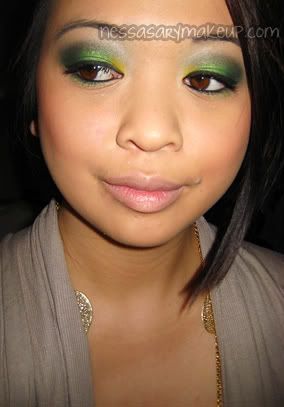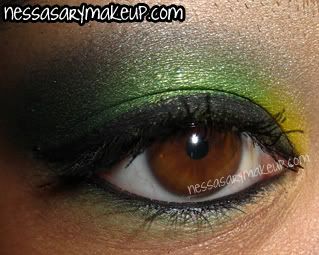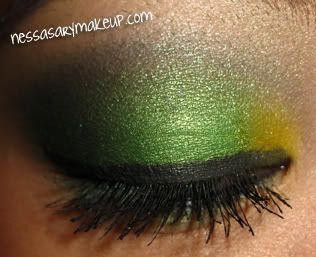 What I used:

[Face]
- MAC Prep + Prime Base Primer
- MAC Studio Sculpt Concealer in NC35
- Purely Cosmetics Mineral Foundation in "Olive Beige"

[Cheeks]
- Flirt! Cosmetics Bronzer in "Golden Minx" for contouring
- MAC Blush in "Nuance"

[Eyes]
- Smashbox Photo Finish Lid Primer (on right eye)
- UDPP on left eye (for a comparison)
- MAC e/s in "Sour Lemon" and "Eye Popping" on the inner corners
- MAC e/s in "Bio Green" (PRO) on the middle of the lid
- Lime Crime e/s in "Princess Caraboo" on the outer-V and contour
- NYX "Black" on lower part of the outer-V
- MAC e/s in "Shroom" with a touch of "Goldmine" as highlight on brow bone
- MAC Fluidline in "Blacktrack"
- L'Oreal XXL mascara in "Blackest Black"
- UD Eyeliner in "Zero" on waterline

[Lips]
- MAC Cremesheen in "Creme d' Nude"