So a few posts ago, I reviewed and raved about the Smashbox Photo Finish Lid Primer and compared it to UDPP and TFSI respectively, now based on my last challenge, UDPP fared a lot better than TFSI for me, so at the end of the day the lid with UDPP looked practically flawless, while the lid with TFSI was creased and almost gone. So how does UDPP fare up against the Smashbox Lid Primer?

The test: I applied the Smashbox Lid Primer on my RIGHT EYE and UDPP on my LEFT EYE, then applied my eyeshadow as usual at 6:30 am (one day last week), went to work, walked in the sweltering heat for a bit, and 12 hours later, took a pic of both eyes...

Here are the results!

SMASHBOX LID PRIMER- 12 HOURS LATER...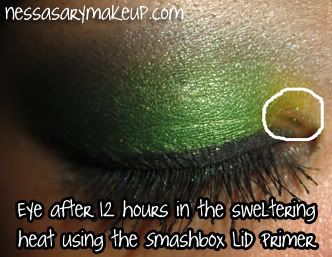 The Result: The Smashbox Lid Primer held up pretty well, slight creasing near the inner corner of my eye, but to me it's where I normally will crease because when I blink the crease just folds in, and my eyes get watery which could have contributed to it. But overall the eyeshadow still looks just as vibrant, no signs of creasing or absorption of oil on the lid; the outer-V shading and contour still in tact and not much color fading, eyeliner also still as good as when I left in the morning.

UDPP- 12 HOURS LATER...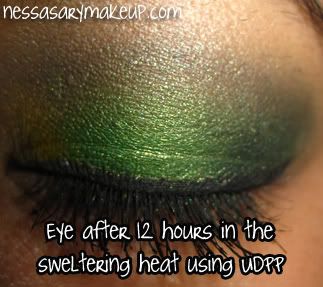 The Result: With UDPP, the eyeshadows still help up pretty well, still vibrant but NOT AS vibrant as the eye with the Smashbox Lid Primer; there is noticeable creasing or fade in color in the outer-V and contour area of the lid (compare to photo above). The eyeliner also seems more "dull" in color than the other eye.

Overall: Even though UDPP won the challenge against TFSI (Too Faced Shadow Insurance), it definitely didn't win the challenge against the Smashbox Lid Primer for me. It's still a good primer, but in comparison to the Smashbox one, I prefer the latter. The lid with the Smashbox primer was more vibrant and looked just as good as when I left the house that morning 12 hours later, whereas the UDPP one had some noticeable fade in color in random spots. Again, this is just MY personal experience with both products, I am sure UDPP works better for some of you above other lid primers, but the Smashbox one is definitely my holy grail of lid primers at the moment! :)