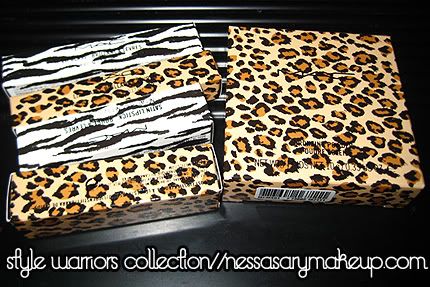 So did any of you ladies grab anything from this collection? Of course the one thing I loved about this collection was the animal print packaging. My favorite animal is the Zebra, so this collection was right up my alley!

Luckily the eyeshadows didn't appeal to me at all (other than "Night Maneuvers" which is a pretty color for a smokey eye look), I already have "Femme Fi" from the Solar Fields collection and reminds me of "Soft Force", and "Magnetic Fields" is somewhat close to "Night Maneuvers" (to me anyway), and I already have "tempting" and "vibrant grape" has crappy color payoff for me, and how often would I wear yellow eyeshadow?!?? So that crossed off "Bright Future" (it IS a pretty color I just know I would never reach for it).

The lipglosses "Gold Rebel" and "Style Warrior" were must haves for me, I love the gold peachy sheen "Gold Rebel" gives and warms up my skintone with a pop of warmth and color, and I love the deep earthy tone of "Style Warrior" and it's very wearable and not super dark. "Liberated" is a nice cool yellow lipgloss which is great by itself or over a lipstick, and "Fierce & Fabulous" reminded me of a few lipglasses I already have like "Magnetique", so I was trying not to get colors similar to what I already have.

The lipsticks are adorable in their tribal safari-esque packaging and I truly love "Brave New Bronze" lipstick! It's a gorgeous neutral lipstick with a subtle hint of pink. I definitely need to buy a back up of it! "Purple Rite" is a frost lipstick- if "Violetta" lipstick and "Bubbles" has a baby this would probably be their child, LOL. It's a nice subtle hint of purple on my lips, not bright, but completely wearable. "Sunsational" was way too sheer for me and didn't go nicely with my skintone, and I didn't want to buy it just to overlay it over another lipstick, "Tribalist" is a nice deep chocolate purple color, which I could never pull of but wished I could!

I also got the bronzing powder in "Refined Golden" (it's also permanent so no need to rush ladies but hurry if you want it in the special packaging!), it's a nice warm brown with a hint of shimmer for a nice bronze glow or to highlight your tan. "Solar Riche" seemed a bit too orangey for my skintone.

Beauty Powder Blush "Eversun" of course is a re-promote and is a nice medium peachy color that would look great on anyone, and "On a mission" is a nice soft plum or mauve color.

The Lustre drops are great as a highlighter, or you can mix them into your foundation or lotion for a subtle hint of shimmer and glow.

I didn't swatch the lustre drops or the leg sprays, but here are some pics!