Candy Yum-Yum (matte), Quite Cute (cremesheen), and Playing Koi (satin)
.
Candy Yum-Yum:
Is a super bright matte fuchsia pink color. Even though it has a matte finish, it's not drying (Ruby Woo anyone?). It doesn't even feel like it's matte when you first apply it on, when it's dry it still feels comfortable but can start to feather, so I suggest applying a tiny bit of chapstick before application. In comparison to other lipsticks similar in color from other collections, Candy Yum-Yum is lighter and more of a true pink than Immodest Mattene lipstick, and Show Orchid. I'd say it's closest to Petals & Peacocks, but Petals & Peacocks is a tinge darker and has shine.
Quite Cute:
Is a pale lavender, almost has a soft blue undertone to it and looks almost like a whitish blue in pictures. It's a cremesheen finish. I think this is great for mixing/layering with other lipstick colors because it gives a nice wash of color.
Playing Koi:
Is a neutral color, almost nude, but a wash of peach which is a nice change from the normal nude lippie. Even though the finish is satin, it has a creamy consistency to it, that I would have thought it was a cremesheen at first. It can still wash certain skintones out, but paired with a nice lipgloss and/or lip liner I think it can easily be pulled off. This is definitely a lippie I want to experiment with and make different combos.
Saint Germain:
One of my all time favorites, it's a soft (but brighter) pink than "Snob" and I love this lipstick because paired with any lipgloss, it always just looks amazing, I loved it so much I ended up buying a backup when I originally bought this.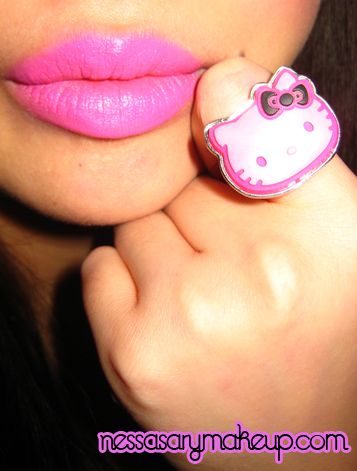 natural light
Cute headband my friend Reno gave me!