This is my face with Everyday Minerals in Natural Beige (intensive). I didn't add blush or do my eyebrows so forgive me! I love the mineral makeup a lot and I actually DO see a big difference. It's A LOT lighter than foundation and yet has the same coverage, if not more. The only CON I had which is probably because I had primer underneath was that it was a bit sticky in the sense that more powder would stick to an area of my cheek rather than disbursing evenly, hence giving me more colored spots in random areas. But I think it's fine without the primer as it DOES last all day long as if it was freshly applied throughout the day.

I personally think it looks better in person since you can see everything I used. I used Sephora's Glitter Blue Eyeliner at the bottom, for my lips I primed them first with Laura Geller's Spackle Trio, lined it with Sephora's Eyeliner #206 (yes I said EYELINER, eyeliner actually makes a great lip liner since they have better colors to me) and glossed it up with L'oreal's Lipgloss in Mauve.

I bought more makeup (like I need more), from LEFT to RIGHT:

E.L.F's "Eye Widener" in white of course, makes eyes appear larger and wider for gals with Asian Eyes (I will show this visual soon), MAX Factor Lip Gloss in "Stood me up", Wet N' Wild Yellow Nail polish since I love yellow, and E.L.F's all over face stick in Lilac Petal.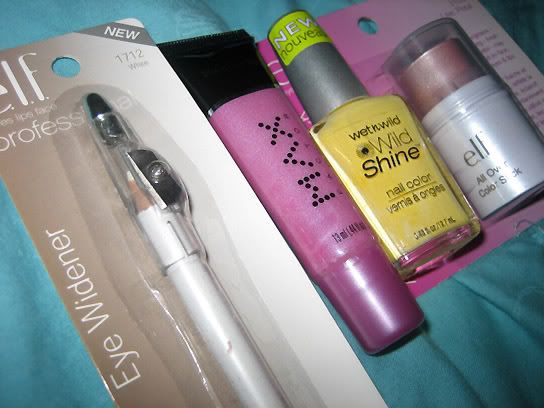 I love the MAX Factor Lipgloss, I was concerned that it would be sticky, but it isn't too bad, the pink/fuschia color is awesome, although it tastes sweet, reminds me of the little girl lip glosses my mom let me wear as a kid;the Bonnebell ones that taste like candy. She would always get mad because I would put it on just to lick it off!

I hated the ELF All Over Face Stick that I also mentioned in a blog a few days ago, it was TOO shimmery to be used for the face, lips, and/or eyes, and smelled like citrus air freshener. It was also too creamy for a nice application. Thank goodness it was only a dollar. :)

I ordered another EverydayMinerals kit with Buttered Tan that Christiana suggested and perhaps that is my shade.

A random picture of my makeup station, it's always messy since I am always playing with different looks, everything is usually just open and scattered...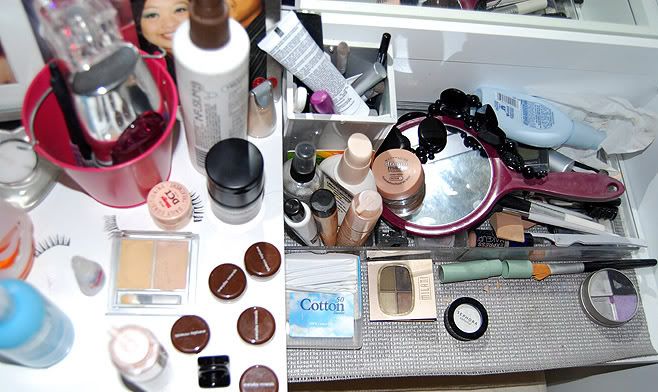 And I know this has NOTHING to do with makeup at all, but I thought id share and help you visualize the sacred, quiet place where I do most of my makeup bloggings- my ROOM. I still have balloons from my birthday, and despite the fact I am 25, I STILL have Carebear sheets, and I don't care what people say about 'em! haha