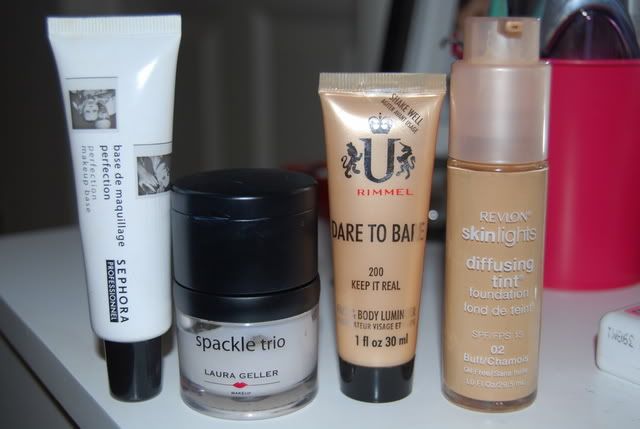 Above are some of my "initial" primers which I use before doing anything else. They are in order, from L to R: Sephora Makeup Base ($12), Laura Geller's Spackle Trio ($30), Rimmel's Dare to Bare Luminizer ($7), and Revlon's Skinlights in "Buff/Chamoise" ($7-10).

I have used the Smashbox Photo Finish Primer, and I like it, I mean most primers do the same thing, it's like moisturizer so you can't go wrong with which one you choose. I also tried the Laura Mercier's Makeup Primer and it worked well too. The only reason I really like Laura Geller's Spackle Trio is because it's a trio, it has the primer, lip, AND eye primer. But she also carries the FULL SIZE makeup primer.

I really like the Sephora Makeup Base, not only because the price can't be beat (at $12), but because it smells really nice and has pink pearlescent beads to brighten your skin.

EDIT!!!

I forgot to mention that I also bought Sonia Kushuk's "blending brush", which belnds different colored eyeshadows (since I wear more than one shade), and I love it, it has loose bristles to give a nice effect.