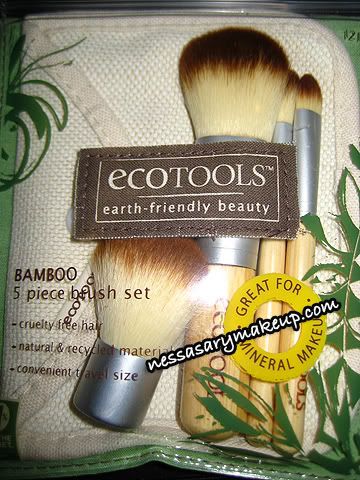 I love Eco Tools, although I DO wish they put more products out there of their line that cater to the makeup market because it's just fabulous! And the best part is that you know you are doing your part in helping preserve the Earth's natural resources because their tools are made by natural material such as bamboo (such as the handles), the ferrule is made by recycled aluminum, and the bristles itself are synthetic man-made taklon bristles.

I have talked about Eco Tools in the past, and I recently bought their 5-piece set which includes 4 makeup brushes: a baby kabuki, a mineral powder brush, a blending eyeshadow brush, and a concealer brush (which could also be good for applying loose pigments wet!), and a pouch made out of natural cotton and hemp.

So you may ask:

Are they soft? How do they compare to other brushes such as MAC?
A: They are REALLY soft! They are not scratchy at all and the best part is that I personally have not experienced any shedding of the bristle hairs when washing these brushes. They are just as good as MAC, I mean MAC brushes, expensive as they are, are not the BEST brushes. They too, shed and get scratchy after awhile. Their face brushes are great, but their eye brushes are not top notch on my list. I use Crown Brushes which are just as great and A LOT cheaper too. But I like how I can take comfort knowing that the Eco Tools are environmentally friendly. :)

How much are they?
A: This set alone was only $10. For the ENTIRE thing. And individual full size brushes are anywhere from like $4.99-$8.99 just to give you an idea of how much they usually run...

Where can I find them?
A: You can find them at Longs, Walgreens, Target, as well as other similar stores.