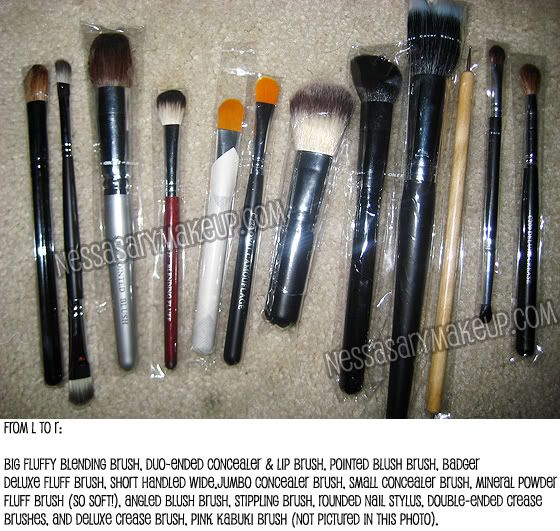 Here is a closer look of the Crown Brushes I recently got, Crown Brushes is the supplier for many mineral makeup companies, and hence Coastal Scents carries similar brushes if not the same, but for some reason some of the Coastal Scents brushes seem cheaply made in quality and I remember buying a brush from them that smelled like a dead animal and it shed like crazy. But the quality of the Crown Brushes are amazing especially at the amazing price they are selling them at!

I personally like the "Luna Series" they have, all black handles and ferrules, just looks super sexy and professional.

The brushes are super soft, some of you might ask me how they compare to other brushes such as MAC, and I actually like these brushes better than MAC personally because 1.) It's reasonably priced (making me regret paying that whopping $52 on the MAC #138 brush!) and 2.) They are really soft and not at all scratchy. I have not even taken them out of their plastic because they are too pretty to use! I also don't think they shed.

They also have many brushes that are not so typical (like the eyelash fan brush) that would be a great addition to any collection, making it suitable for anyone who wants to achieve different looks. They somewhat have an online store, meaning you can add to cart, but you can't checkout. Instead, it sends your order to them and they send you an invoice with your total via email and you just submit payment to them by calling them or providing your payment info.

Pink Kabuki Brush, looks scratchy but not at all scratchy! Can you tell I was excited to use it???



Here are the NYX lippies I got from the show: Hera, Coffee, Almond, and Gold. Gold looks pretty swatched on your hand but not on the lips, it looked ghastly orange on the lips so I didn't even bother to swatch it on my lips and take a pic. ALMOND however is such a pretty nude color that I ended up buying 2! (And yes I will do swatches of all my nude lipsticks shortly).