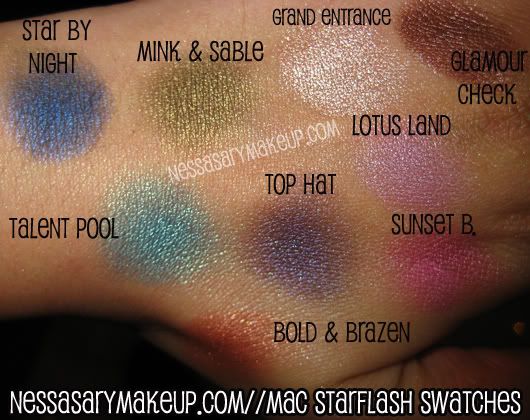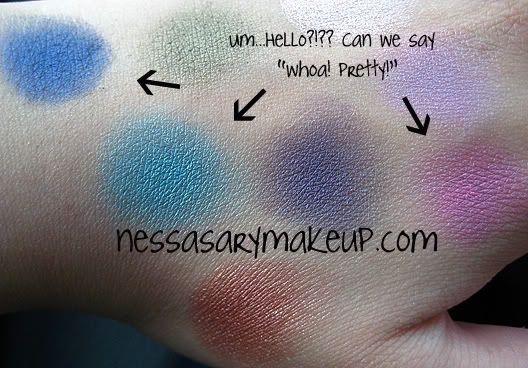 ***Some of you asked which one was an overall winner from my last post on the concealer, it's a tie for me to be honest and I actually use both sometimes, the liquid, and then put MAC's concealer on top. They both bring something to to table, for the winter I think all I need is the Maybelline one because it's lighter and I can use it without wearing foundation. With this HOT california heat, I need something that'll stay on a bit longer hence I use both at the same time; since the MAC one is a cream, it stays on longer for me. But if you DON'T need a lot to conceal much, then the Maybelline one will work just fine.

The release date for the Starflash collection is Thursday July 31, 2008. I was able to preview this collection along with the other lippie collection coming out "Lustre Twins" (Pro-Long Wear)as my local Nordie's had it already out on display. However, I did NOT buy anything because I want to use my discount as I plan on buying ALL of the eyeshadows, yes ALL. Why? Well take a look at these swatches and seriously just TRY to pick only one you want, I dare you! LOL.

So I plan on getting all of them because they are gorgeous! (Besides, the BF said I can! haha) and there are about 3 eyeshadows missing from these swatches because the MUA was using it on someone...enjoy!

Are you all planning to get something from this collection?

Possible dupes?
Mink & Sable= Milani's "Antique Gold"
Lotusland= MAC e/s in "Stars N' Rockets"
Top Hat & Sunset B.- MAC e/s in "Modern Heir" and "Trophy Pink" from the holiday Cool Eyes palette
Star By Night= MAC e/s in "Freshwater" with a little "Deep Truth"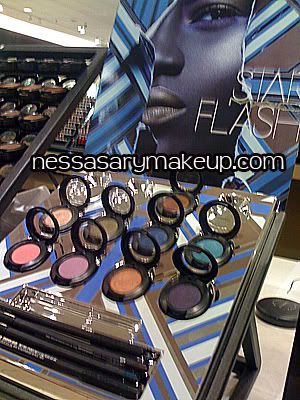 Eyeshadows: $14.00USD

* Dreammaker - Frosty yellow gold (Starflash) (LE)
* Grand Entrance - Frosty neutral pink beige (Starflash) (LE)
* Bold & Brazen - Frosty light copper (Starflash) (LE)
* Sunset B. - Frosty mid-tone pink (Starflash) (LE)
* Lotusland - Pinky lavender with gold pearl (Starflash) (LE)
* Talent Pool - Blue green with gold pearl (Starflash) (LE)
* Mink & Sable - Olive green (Starflash) (LE)
* Smoke & Diamonds - Frosty dirty taupe (Starflash) (LE)
* Go - Frosted bronze (Starflash) (LE)
* Glamour Check! - Reddish brown (Starflash) (LE)
* Top Hat - Dirty Indigo (Starflash) (LE)
* Star by Night - Mid-tone blue (Starflash) (LE)

Kohl Powers Eye Pencils: $13.50USD

* Raven - Black with red pearl (LE) (Repromote from Smoke Signals)
* Orpheus - Black with gold pearl (LE) (Repromote from Smoke Signals)
* Feline - Rich black (LE) (Repromote from Blue Storm and Alexander McQueen for MAC)
* Mystery - Black with green and teal pearl (LE) (Repromote from Blue Storm)

Mascara: $11.00USD

* Zoomlash - Zoomblack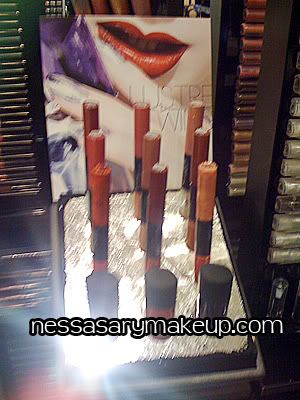 Pro Longwear Lustres - $20.00USD

* Coco Lust /Sweet Sexy - Deep red brown/copper brown with gold pearlized pigments
* Red Flame / Orange Flicker - Intense bright yellow red/bright yellow red with gold pearlized pigments
* Red Reflection / Mirror - Deep berry magenta with pearlized pigments/clear with white pearlized pigments
* Pink Air / White Top - Light pink with pearlized pigments/clear white with red and pink pearlized pigments
* Ripe and Ready / Soft and Lush - Bright pink coral with gold pearlized/yellow pink with gold pearlized pigments
* Gypsy Rose / Shimmer it - Berry red with gold pearlized pigments/white gold with multi-coloured pearlized pigments
* Custom Rose / Pink Virtue - Berry plum with pearlized pigments/light blue pink with silver pearlized pigments
* Boss brown / Slave to Pink - Chocolate bronze with pearlized pigments/champagne neutral with pearlized pigments
* Alta Moda / Hip Love - Deep blackened red/deep plum with red pearlized pigments

Nail Lacquer - $11.00USD

* $$$$$ Yes - Metallic silver foil (frost)(Repromote from MAC for Heatherette)
* Perplexing - Deep blue purple (frost)(New and PERM)
* Firehouse - Bright chrome red (frost)(New and PERM)
Info from: Specktra.net