Nuance (noun)
Etymology:
French, from Middle French, shade of color.

1 : a subtle distinction or variation
2 : a subtle quality : nicety
3 : sensibility to, awareness of, or ability to express delicate shadings (as of meaning, feeling, or value)

So that's why they call it "Nuance", because it is INDEED a subtle shade of color, giving you a nice natural flush of color on your cheeks and a nice natural glow just like "Warm Soul"

Have you ever noticed HOW CREATIVE MAC truly is with their collections, themes, AND names? They really are because they go deep into the root of history sometimes (such as the "Antiquitease" and holiday collection) which was derived from the "Classical Antiquity", an era that comprised the civilizations of Ancient Greece and Rome; and pull out all relative terms and that's how the eyeshadow names and lipstick/lipglass names come about...just amazing!

Anyway, this FOTD is actually TIED into other posts, such as the previous post about the MAC PRO Gloss and will also be used for Shiseido Mascara Base Review as requested by Aimee. I also used my new MAC Pigment in "Tea Time".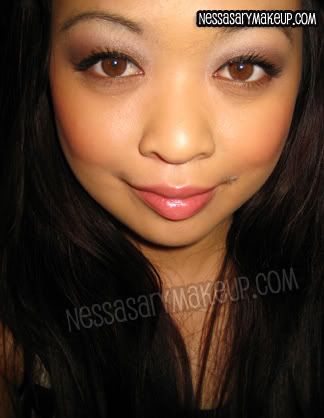 What I used:
Face:
- MAC Fix+ spray
- Monistat Primer
- MAC StudioFinish Concealer in NC30
- Fyrinnae Foundation in "Sunstone"

Cheeks:
- MAC Sonic Chic Blush in "Nuance"

Eyes:
- Urban Decay Primer Potion (UDPP)
- MAC PP in "Constructivist" on lower half of the lid (applied with a synthetic concealer brush)
- MAC e/s in "Femme Fi" on lid (from the Neo-Sci Fi collection)
- MAC e/s in "Ricepaper" and "Shroom" as highlight and browbone
- MAC Pigment in "Tea Time" applied wet on top of "Constructivist" on lower half of the lid and on lower lash line
- MAC e/s in "Shale" applied right above "Tea Time"
- MAC Fluidline in "Blacktrack"
- Shiseido Mascara Base
- L'Oreal Telescopic Mascara

Lips:
- MAC lipstick in "Cherish"
- MAC Pro Gloss in "Rosy Coral"