Melody's Makeup Outlet
11 South 2nd St.
Alhambra, CA 91801
(626) 281-7707 (Tell them Vanessa from NessasaryMakeup sent ya to get yourself a discount!)

They have discounted items from well-known brands: MAC, Too-Faced, Smashbox, Shiseido, Shu Uemura, and more!



This past saturday, Melody's Makeup Outlet in Alhambra was fully staffed gearing to open their doors for the freebies they were giving out (which was NYX cosmetics and some false eyelashes), I went there and met up with Anne and met Miss Jaclyn Rose for the first time! I have known this girl online for a little over a year via MySpace, and we finally met! It was a true pleasure meeting her, she is so cute and super sweet in person!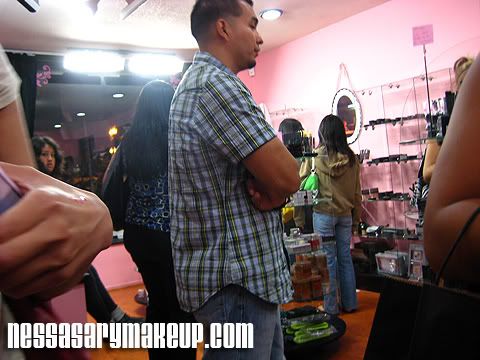 The place was packed and there were so many people checking out the goods. I was being good since I am on a no-buy until August 1st because I am trying to discipline myself to be "good", and so far so good! Since I dropped $430 on the BF's new iPhone 3G (had to pay more to break his contract), that I was trying to recover by not buying anything I don't need. So essentially, I chatted with Anne and Jaclyn while THEY shopped, but actually walked out with NOTHING (shocker!). Even the BF didn't believe me and did a quick bag check to see if I tried to hide something in my purse, LOL.

We took a pic with the owners, of course who are so nice and now good friends and it was overall a pretty fun night! Parking was super hard to find since there was also a fair going on, but we managed to find a spot. Afterwards, we ALL went to have dinner at Noodle Planet (or Noodle World) with Anne, her BF, my BF, and Jaclyn. She wasn't the 5th wheel since she was MY date, I made my BF be the 5th wheel, LOL.

We had a lot of fun having girl chat, getting to know her and her family, her adorable boys, and just random things. We exchanged numbers and you can bet we are slowly forming a beauty blog clique! We will definitely hang out again!

Owner Rob taking a smoking break outside with us (none of us smoke, haha)



Group pic! Did I feel like a ginormous giant? Yes. :)