WOW did anyone watch "Gossip Girl"???!! Lonely boy Dan Humphrey with the teacher!?? That is craziness! I just absolutely love Blair Waldorf!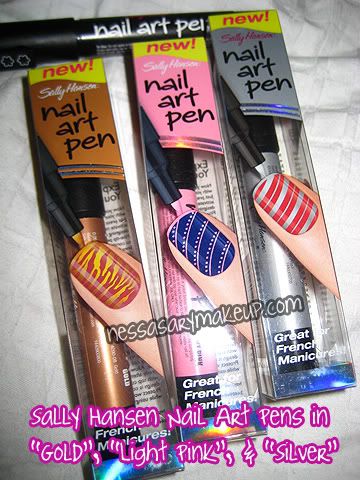 Anyway, I went to Longs Drugs about a week ago to get some Valentine's Day chocolate covered marshmallow hearts (I get them every year as a tradition since my mom would get them for me as a kid!) and then I ran into the Sally Hansen section and found these new Nail Art Pens which is AWESOME for nail art! I go to the salon sometimes and they charge $3-$5 just to add a tiny flower on like ONE nail, LOL! So why not let your creative side out and decorate your nails??!

They are very easy to use, they have a fine nail tip for intricate and small designs or even a nice line across the nail like a French Manicure. Longs had/has them on sale for $5.99, Walgreens has them too for $7.99 but all the Walgreens I went to were sold out.

Product: 5 out of 5
Packaging: 5 out of 5
Quality: 5 out of 5
Overall: 5 out of 5
Would I buy again? YES
Where to buy: They are fairly new, so they still have yet to hit most drugstores, but so far Longs and Walgreens are the places I have seen them at...
Price: Regularly they are around $7-$8, on sale for $5.99 at Longs
Colors I bought: Black, Silver, Gold, and Light Pink
Also comes in: Red, Blue, Hot Pink, and White

PROS:
- Innovative, unique, cheap, and easy to use! There are many nail pens out there, but in regards to convenience this is definitely #1 as these will be hitting many drugstores soon. Also Sally Hansen is known for her nail products, so this is a hit!
- Exactly a nailpolish, same smell, consistency, etc, just in a pen form
- Has a decent amount of colors to choose from
- Nice fine tip to create nice detailed designs
- Easy to carry around for touch ups

CONS:
- Right now they have a decent selection of colors; I hope they come out with a full array of colors like green, yellow, etc....other than that I love it!

Overall? These are just awesome to have!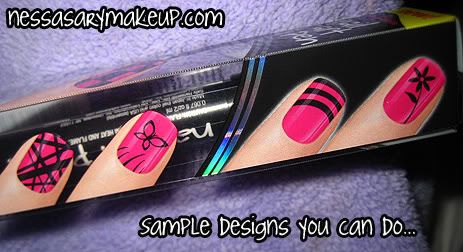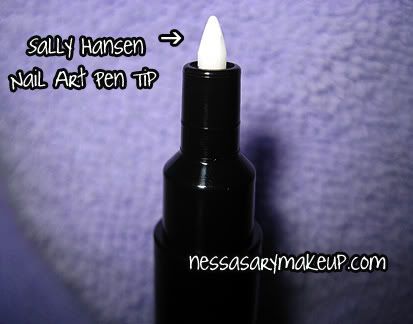 First painted my nails using "Pink Flame" from Color Club: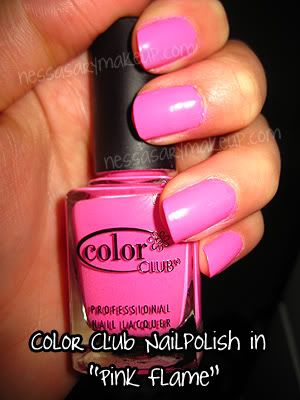 Forgive my crappy looking cuticles and nails, I didn't clean it up much yet, but wanted to show you a quick design so you can get an idea...



Another example of what you can do, create a solid color line under your french tip for a little "pop" of color: