**Answered C-Box Questions :)

This is a look I did last Friday sporting the "Fashion Mews" lipstick from the Hello Kitty collection. It's a light pink with a nice undertone in it so it's not dead looking on your lips. I have done a teal & black smokey look before, but it wasn't as vibrant as this one...

For the eyes I used MAC "Too Dolly" e/s on the inner corner of my lid, Ben Nye's Eyeshadow in "Jade", BFTE (Beauty From the Earth) Mineral eyeshadow in "Jaded", Purely Cosmetics e/s in "Spring Green" and MMBB (My Minerals Bath & Body) Eyeshadow in "Smokey Green" (even though it's a nice shimmery black to me!). I also used Urban Decay eyeliner in "Electric" on my lower lashline for a little pop of color.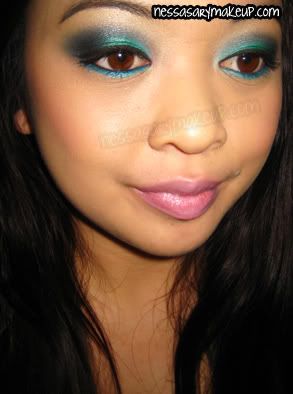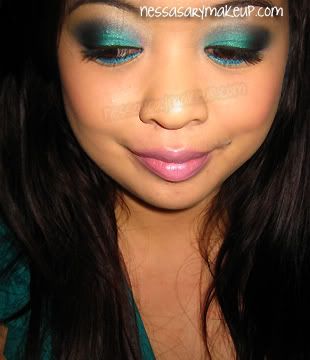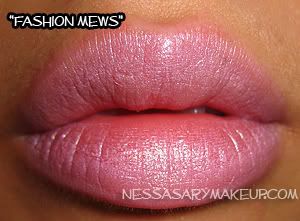 What I used:
[Face]
- Purely Cosmetics Mineral Foundation in "Olive Beige"

[Cheeks]
- MAC Fafi "Hipness" Blush

[Eyes]
- MAC "Too Dolly" e/s (LE) on the inner corner of the eye
- Ben Nye e/s in "Jade" on lower half of the lid
- A bit of PC e/s in "Spring green" blended with BFTE "Jaded" on top of Ben Nye e/s (applied slightly wet using a sponge tip applicator)
- MMBB "Smokey Green" applied dry on the outer-V and contour
- MAC e/s in "Ricepaper" as highlight
- Urban Decay Eyeliner in "Electric" on lower lashline
- MAC Fluidline in "Blacktrack"
- L'Oreal Telescopic Mascara in "Blackest Black"

[Lips]
- MAC lipstick in "Fashion Mews"(LE)
- Touch of "Fleur de light" lipglass from the MAC Holiday Lipgloss set