Everyone yearns for great skin, and those of us who do have great skin- want to maintain it. I get a few compliments on my skin but let me tell you, I do have pimples that come outta nowhere at times and it's not easy maintaining nice skin!

I was browsing through Sephora a few months ago and came across the Clarisonic Facial Brush and was interested in trying it until I almost fell outta my chair when I saw the price! $195!

Clarisonic Brush:



Now don't get me wrong, if it was a little miracle in a bottle and did wonders for my skin, I eventually would cough up that much for it- however, with tough economic times and the fact that the BF and I are getting our own place, $195 isn't in our budget. So what is a girl to do??? I did my research!

I looked at several facial brushes (even manual cheap ones) and hours later I found myself wandering the aisles of my local Rite-Aid and stumbled upon Pretika SonicDermabrasion Facial Care System for only $30! What a steal! You can find more info on it in various sites online, and find other products from Pretika here on the Rite-Aid website.

I read a few reviews on it from makeup alley in which it was highly praised and just as good as the Clarisonic brush (mind you I have NOT TRIED the Clarisonic Brush so I can only speak for the Pretika brush), and that it prevents the amount of breakouts and helps keep skin clean and clear. The other Facial Regimen Brush also from Pretika was not as good as many claimed that it stopped working after a few months (my guess is because it's cheaply made and battery operated); but the one I bought has its own charger and plugs into the wall.

Product: 4 out of 5
Packaging: 5 out of 5
Price: $30, 5 out of 5!
Quality: 5 out of 5
Overall: 4 out of 5

What they claim:

* Sonic frequency technology produces 630 rotations per minute that works with the natural elasticity of the skin to deeply and gently cleanse
* Step 1 Microdermabrasion Scrub. Before use, cleanse skin with a mild, soap-free cleanser and pat dry skin.
* Step 2 Hydrating Firming Complex: Dot your face in four (4) areas with Hydrating Firming Complex: forehead, cheeks, chin and nose
* Step 3 Clean Applicators. After each treatment, thoroughly clean Micro-Fiber Exfoliating Bristle Applicators using hot water
* The new Microdermabrasion way to rejuvenating skin

So how was my experience with it? Once you get it, charge it overnight before use. You can use it with your own facial/skin regimen products such as your current facial cleanser, etc. It's a fun little machine and has a BUILT IN TIMER and beeps every 20 seconds (4 times only) so you know how much to spend on each area of your face (cheeks, forehead, chin, nose), then automatically turns off; AND you can control 2 speeds, one for normal and sensitive skin. I really feel like it's exfoliating my skin, loosens up the natural oils and dirt on my face, revealing a smoother looking and even-toned face.

The bristles are a little rough on the face (even on the sensitive setting) and I am guessing because it's still new and hasn't 'soften' yet, or my skin is just too sensitive to the slightest things (and yes I am using super light pressure to where it's barely even touching my face). So please use it with CAUTION the first few times until you and your skin are used to it. Also, it's waterproof obviously so you CAN take it in with you to the shower (just dry the bottom charging poles at the bottom before you place it back into the charger to prolong its life).

How much and where did you get it? $30 (before tax) at Rite-Aid (don't know any other actual stores you can walk-in and get it at sorry)

What does it come with? It comes with the charger, a replacement brush head, a brush head already attached to the actual device, the microdermabrasion scrub to exfoliate, and the Hydrating Firming Complex.

Where can I purchase more replacement heads? On their website www.pretika.com or you can search other distributors online.

What's cool about it? It has a built-in timer that beeps every 20 seconds (4 times only) so you know how much to spend on each area of your face (cheeks, forehead, chin, nose), then automatically turns off.

Can you take it in the shower? Yes, it's waterproof!

How do you use it? Turn it on, and like any normal facial brush or sponge, rub gently in circular motions over entire face.

Overall? I love this brush, and I love the price even more. It's definitely at a good price and it's great quality. My skin has never looked more radiant! I say save/use the other $165 you would have spent on the Clarisonic brush on other things (like more makeup! LOL)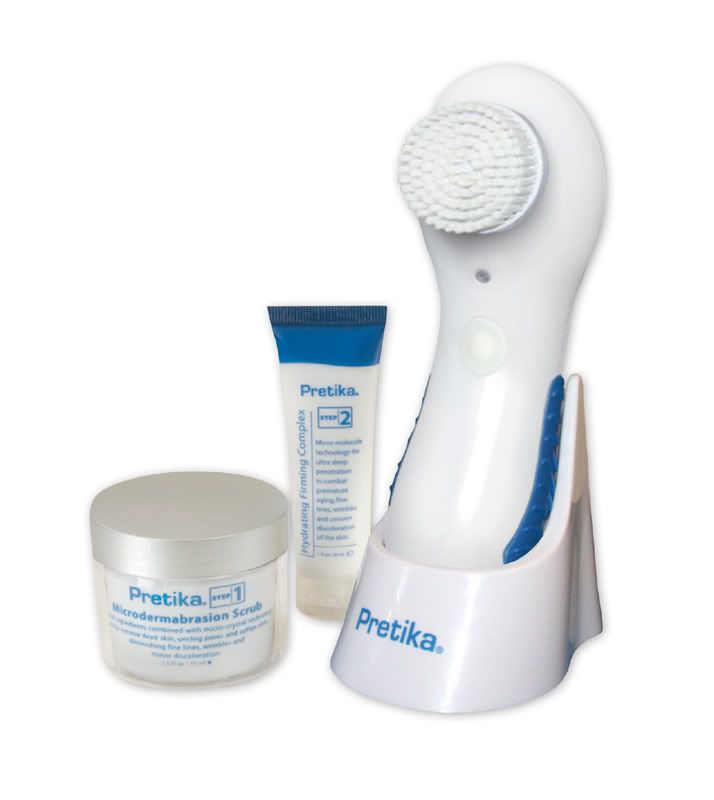 The kit fresh out of the box!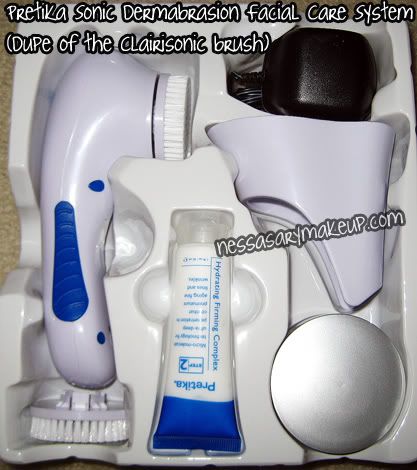 Comes with: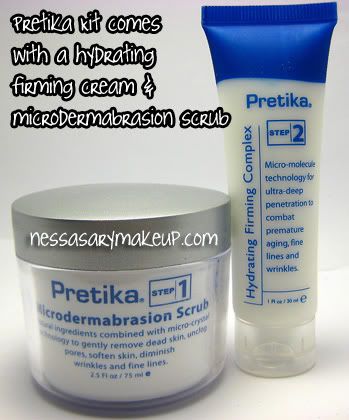 ...and replacement brush head!