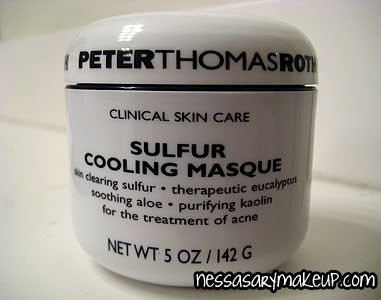 Product: 3 out of 5
Packaging: 4 out of 5
Quality: 2.5 out of 5
Overall: 3 out of 5
Size: 5oz.
Price: $40
Where to buy: Sephora
Would I buy again? No

What they say: Sulfur Cooling Masque was specially made for those who prefer an aromatic medicated mask. With eucalyptus, sulfur, and purified clay, this mask is designed to exfoliate dead skin cells. Great for cleansing oily skin, the T-zone area, and clogged pores. Dries and clears blemishes and helps prevent their return.

Ingredients: Active: Precipitated Sulfur U.S.P. 10%. Purified Water, Bentonite, Kaolin, Propylene Glycol, Glycerin, Aloe Vera, Zinc Oxide, Eucalyptus Oil, Polysorbate-20, Titanium Dioxide, Diazolidinyl Urea, Methylparaben, Carbomer 940, Sodium Hydroxide, Propylparaben.




My experience: I had an annoying and painful pimple on my forehead and applied this mask on it. I left it on overnight and in the morning I noticed it was less painful and has shrunken in size. It does not get rid of pimples completely as it is not designed to do so, but rather to help clear blemishes and exfoliate dead skin cells. Based on reading reviews on both Makeup Alley and Sephora, many women use this as an all over face mask, and others use it as a spot treatment; and they both have had positive results. The reason I gave it a 3 out of 5 was because I think after awhile it starts to lose its affect (like the product stops working after continuous use), because I noticed personally that it wasn't working as well as the first time I used it but of course it may be different from others who have tried this product. :) It may work great as an all over mask to take out dirt and oil which I have not tried using it as...

PROS:
- Similar to the consistency of the Queen Helen Mint Julep Mask, in which it goes on as a cream, and dries cracked to absorb oil and impurities.
- Minimizes pimples little by little drying it up as well as making it less painful
- You get a lot of product, comes in a huge tub that will last you a long time! If you are worried about contamination, I use a Q-tip to apply it directly on blemishes.

CONS:
- $40, although you get a lot for your money, I wished they had a smaller size for half the price (just like MAC pigments!)
- Strong smell, smells like a creamy version of Vick's Vapo Rub
- Stopped working for me in which I noticed other blemishes did not shrink in size.

Overall: This may work for those with acne-prone skin, and as a spot treatment for some; but for me this product just didn't work as well as I wanted it to. Even though I noticed a huge difference the first time I used it, there were no significant results thereafter, therefore I would not buy again.