***Edit***: To the "MAC Artist" that said that putting to much powder will "defeat the purpose" of the Studio Sculpt Foundation, it's not to put A LOT of powder over the foundation it's to dab a bit of the powder to minimize the shine. There is also transparent (clear) powder that mineral companies make to avoid the "cakey" look of applying a powder over a liquid foundation. Everyone has a different way of doing things that works for them, and if you actually read my previous post, I have DRY skin, so if this foundation looks like that on someone with DRY skin, I can't imagine how it would look on someone with oily skin, hence in my previous post I said I would NOT re-purchase this because this particular product didn't "wow" me. I would rather stick with mineral foundation and avoid having to look shiny in the middle of the day. Also there's no animosity, I am just saying that there's several ways people can approach it. There's no way for me to contact you so I had to make a post, feel free to email me instead if you'd like.

Here's an impromptu Valentine's Day look I did last Friday (a.k.a. using-my-new-Studio-Sculpt-Products look), like I mentioned before I haven't been doing any FOTD's since I've been sporting tinted moisturizer and mascara the past week trying to give my skin a rest and bring it back to it's supple state, lol.

I used the new Studio Sculpt Foundation (NW25) and Concealer (NC30). As you can see, the foundation alone, makes me look a tad bit shiny, therefore I highly suggest using a setting or a finishing powder to mattify it. Also, the Studio Sculpt Foundation runs lighter than your normal shade, it looks ok in person, but the flash picks up the titanium dioxide which causes the "ghost effect" in pictures where your face appears lighter than your neck, so be sure to go a shade or two darker to solve that problem. My left eye is missing a bit of eyeliner at the bottom since I was rubbing my eyes like crazy because they were so itchy, ah well....I mainly did this look just to use my Studio Sculpt products anyway! I will post a pic of how the concealer held up soon, since the BF was hogging the laptop last night! LOL.

BTW, the Hello Kitty Collection is now available online at www.maccosmetics.com, Nordstrom's, and Macy's!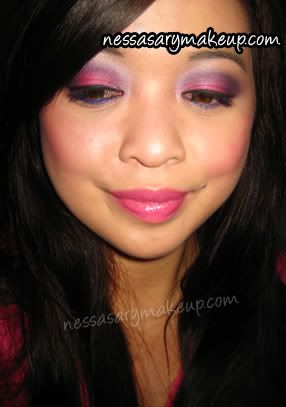 [Face]
- MAC Studio Sculpt Foundation in NW25
- MAC Studio Sculpt Concealer in NC30

[Cheeks]
- NARS "Torrid"

[Eyes]
- Fyrinnae e/s pigment in "Peaseblossom" (light pink) on inner corner of the lid, applied wet
- MAC "Trophy Pink" e/s from Antiquitease Cool Eyes Palette on lower half of the lid
- MAC "Modern Heir" e/s from Antiquitease Cool Eyes Palette on outer-V and contour
- Beauty from the Earth (BFTE) loose pigment e/s in "Grape" on crease
- MAC "Shroom" e/s as highlight"
- UD eyeliner in "Lust" on lower lashline
- MAC Fluidline in "Blacktrack"
- Maybelline Lash Discovery Mascara

[Lips]
- MAC Hello Kitty Lipstick in "Strayin'"
- MAC Lipglass in "Flashmode"