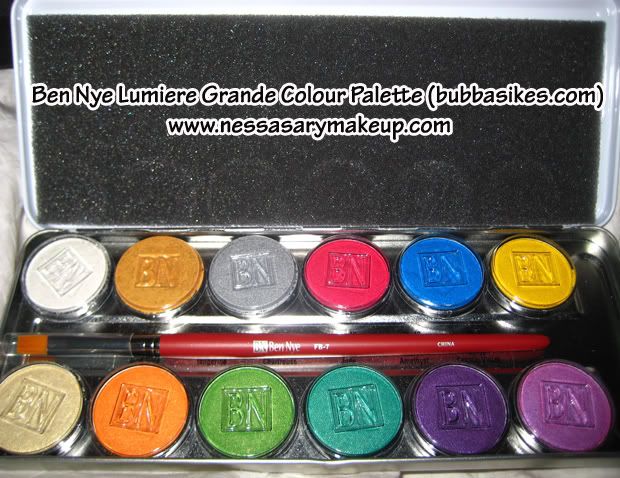 Everytime I hear "Ben Nye" I am so tempted to sing "Bill Nye the Science Guy" does anyone remember that show from PBS? LOL. I love how it's also spelled the Canadian/French way, Colour, Grande...makes me miss writing "favourite" or "centre" when I lived in Canada haha.

I remember Ben Nye being known for theater makeup (for the sake of this entry, let's say "theatre"); as well as for face painting at carnivals. The entire Ben Nye line has grown quite a bit and I am glad they are offering so much more products that now cater to us regular gals, giving us the most vibrant colors imaginable at a much better price than let's say MAC.

I had one of their color wheels back in the day and I lost it when I moved, after seeing Lurve's take on it as well as Pursebuzz's, it made me want this even more.

Product: 5 out of 5
Packaging: 2 out of 5
Quality: 4 out of 5
Overall: 4 out of 5
Price: $45-60, Bubbasikes.com, available at theater/cinema makeup places, includes all 12 colors and a brush.

CLICK TO ENLARGE PHOTO AND SEE DETAIL***THESE SWATCHES WERE DONE DRY (NO BASE, NO PRIMER, NOT WET) USING JUST ONE SWIPE FROM MY FINGER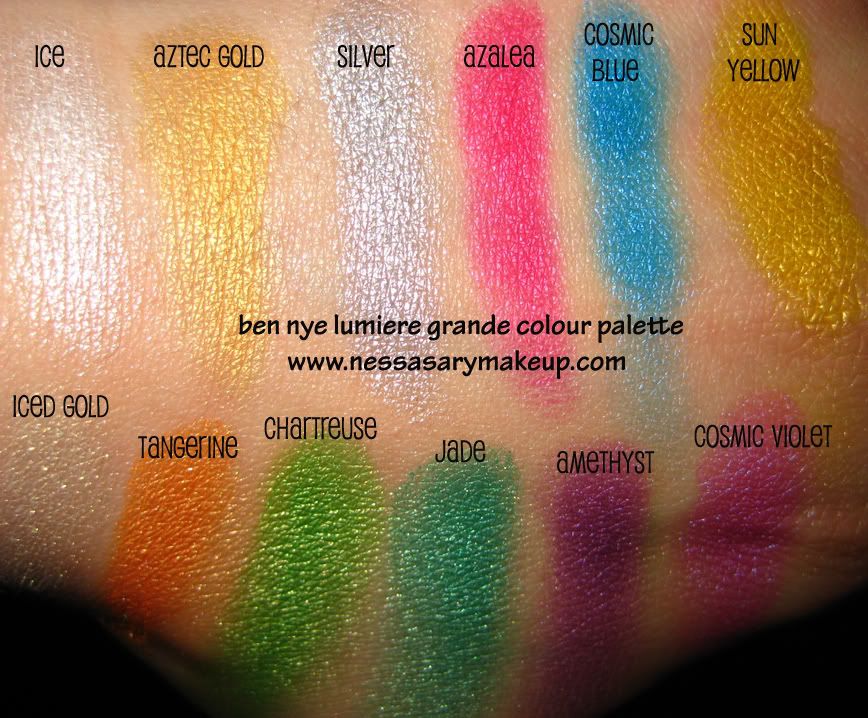 CLICK TO ENLARGE PHOTO
Colors include: (First Row) Ice, Aztec Gold, Silver, Azalea, Cosmic Blue, Sun Yellow
(Second Row) Iced Gold, Tangerine, Chartreuse, Jade, Amethyst, and Cosmic Violet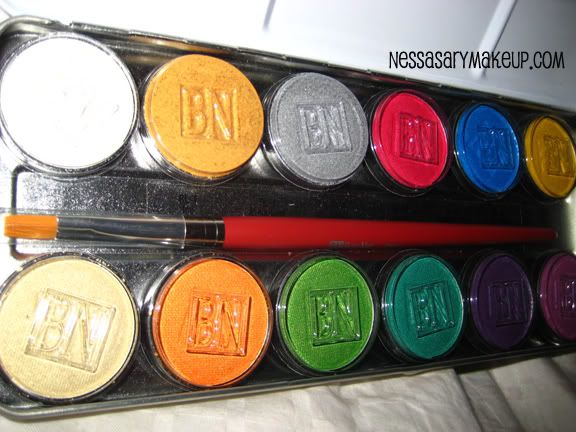 It's a 12 color palette which is a great dupe for the C-Shock collection (in case you missed out on that), and it's available at MANY Stage/Cinema/Theatre stores, as well as online such as
Bubbasikes.com
, a clown store oddly enough since it's that pigmented (and it's where I ended up buying mine because shipping was cheaper all in all than the other sites I looked at). Just Google, "Ben Nye Lumiere Grande Colour Palette" and you will have tons of listings to look at so you should have no problem finding it. It also comes with a brush.
The price is anywhere from $45-50.
Expensive? Not really. If you think about it, one MAC eyeshadow costs $14, and even if you get the PRO Pan eyeshadow refills, it's $10.50, and if you had a PRO discount on that, it would be around $6 and some change. BUT, $6 times 12 eyeshadows is already $72, and that's NOT including tax. And I even used the cheapest price you can get MAC eyeshadow refills for!
$14 times 12 eyeshadows at MAC is a whopping $168!
So really, this 12 color palette is a frikkin' GOOD DEAL! Also, it's SO MUCH MORE vibrant than MAC in my opinion. And trust me, I've been using MAC for about 2 years, and I don't think it's all that it's been cracked up to be, they have good stuff, but the fun in makeup is exploring other things right??? I would classify the Ben Nye on the same level as Makeup Forever but A LOT cheaper. Makeup Forever has such vibrant colors as well, and they too cater to the industry of photographers, models, and makeup artists, which is why it's easy to see why the colors are just so rich; because you need bright, pigmented makeup for it to show on camera or in Ben Nye's case, on stage.
When I used to model, makeup artists would layer on the makeup and really take the "Smokey Eye" to a whole new level! LOL, but I remember when I worked with Katie, she explained that it's because the camera doesn't pick up any colors when you wear normal, everyday makeup, moreso if flash is involved, there is NO COLOR. So instead of packing on the makeup, the answer was to create a makeup line that takes little effort and little product and just ensuring it's loaded with pigmentation! And Ben Nye definitely did that.
PROS:
Very vibrant and pigmented, I love the colors and the variety of colors they have available. A lot cheaper than most brands.
CONS:
I hated the packaging! I received mine when I was in San Fran so I was excited to get it and when I opened it, "Aztec Gold" was cracked and a portion of it was shattered, even with alcohol to mend it, it just wasn't the same. :( But nonetheless it still "works". I hate the cheap plastic lids on each eyeshadow, they are hard to take off each one without having them overlap each other and you have to remove it really slowly to avoid damaging the eyeshadow, it's a pain in the ass to do each time, especially when you are working with more than one color in the palette. If anything, I recommend getting the single eyeshadow because of it's own plastic casing although the palette is cheaper....
Overall?
I LOVE IT. It's a great brand for anyone who wants more pigmentation for it to show up like those with darker skintones, as well as those who just want more vibrant colors. Ben Nye has other great products as well so check them out!
The BF was excited (and retarded, haha) to test out all the colors on my face, LOL: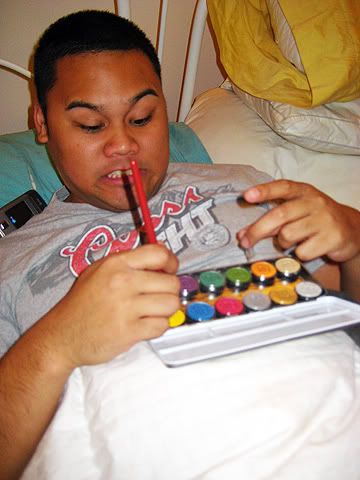 Swatches WITHOUT FLASH, natural light, again no base, applied DRY: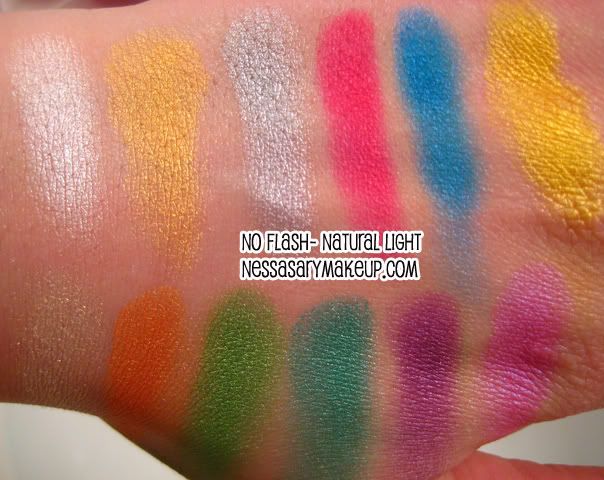 Up Close: