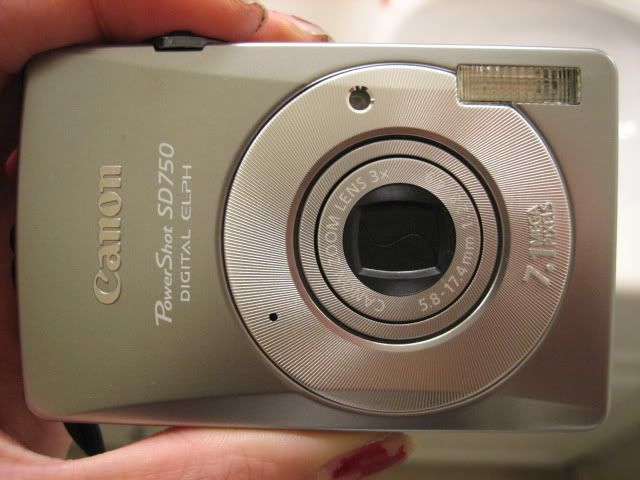 I've been tagged by Lanie, on which camera I use, I actually use two cameras, the NIKON SLR D40X and a CANON SD750 but mostly my CANON SD750 is what I use simply because it's always accessible in my bag. I used to use the NIKON D40x for all my swatches because my old camera (CANON SD450) sucked at taking swatches, it always came out washed out and blury, but then again I had that camera for so many years. But with my new one which is the CANON SD750, it takes awesome swatch pictures so now I just use this camera and use the NIKON for my photography.

I get A LOT of questions about how to take a good makeup photo, and although the steps are the same, the settings vary from camera to camera, AND it also depends whether you can take a decent photo or not.

First of all, many people don't know that you have to press the shutter half way to focus, then press fully down to take the picture. Hence many of their pictures come out blurry. Also, take your picture in nice lighting, not in a dark room, but in places such as your bathroom, by the window, etc.

My old camera was a CANON SD450, and all I had to do with it was put it on AUTO and it did the rest. I never had to touch the settings because it always took the perfect picture. With the newer one, the CANON SD750, the AUTO is TOO bright, thus I have to put my settings as follows:

MANUAL>MACRO (this is the symbol that is depicted by a flower, this allows you to take focused, sharp pictures of close subjects such as your eye(s) or face).

The "+-" sign on this manual setting is the exposure, this controls the intensity of the flash. "0" of course being normal, and -2 being the darkest, +2 being the brightest.

Again, it varies from camera to camera, and person to person. You may not even have to use manual and just AUTO, but the best thing is to take some time and play around with your camera settings to see what works for you.