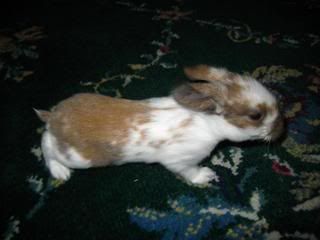 I know it seems like yesterday I got her, it certainly feels like it, but sadly my bunny has died this morning. She was fine last night, playing, running around like she usually does, so it's a shock to us. We do not know the complications or the reason of her passing, I am assuming it's similar to other baby bunnies deaths in which bacteria can harbor in its intestinal tract. The vet said she was probably too young and was already sick when I got her. I read some forums from other people whose bunny has died, and they had similar stories of their bunny just "dying unexpectedly" but was fine the night before (or at least so we thought).

She had a bout of diarrhea on Sunday, which now I know was a bad sign in itself reading up on similar stories; I just thought that she was eating and drinking normally now. We honestly don't know if she was sick, as there was no true tell sign that she was...she was just always a happy, playful bunny.

My friend Erica (who found her since she was going to take her out to play) said she just looks like she is sleeping, so I want to think she at least died peacefully. I am deeply sad because I have grown so attached to her even though it's only been a few weeks. I went to the pet store practically everyday to get her something. I wish I knew what, if anything was wrong with her, in hopes I could have possible saved her. But it's no one fault- it happens. It's just hard.

So Rest in Peace my baby bunny....