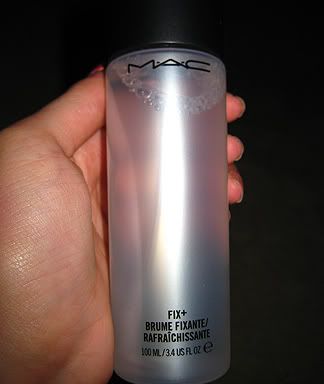 Product: 4 out of 5
Packaging: 5 out of 5
Overall: 5 out of 5
Price: $15, www.maccosmetics.com

Ingredients: Water, glycerin, butylene glycol, cucumber fruit extract, chamomilla, camellia leaf extract, tocophryl acetate, caffeine, panthenol, hydrogenated castor oil, fragrance

What it claims: An aqua-spritz of vitamin and minerals, infused with a calm-the-skin blend of green tea, chamomile, cucumber, topped off with the fresh, natural, energizing scent of Sugi. Adds radiance, finishes makeup. Spray it on. Skin drinks it up!

I bought this spray because I heard a lot of great uses for it (thanks Enkore!), and thought it would be a great skin refresher with summer around the corner.

My experience: It feels really nice on your skin, and there's no bad smell, just a nice fresh smell. I made the mistake of spraying it TOO close to my face so my face was sticky from the glycerin, so at first I didn't like it; but the next day I tried spraying it at elbow's length and got better results! It wasn't sticky like before and it really did a great job and making my skin feel smoother and softer.

I heard some bad reviews on this on Makeup Alley, making some people look like a "grease ball" but I think it's because they made the same mistake I did the first time I used this, and that was spraying it too close to my face putting more of the product on my face making me look greasy and shiny. It has to be sprayed at elbow's length or arm's length for better results.

PROS: Great little moisturizer, just spritz all over your face and let it set in. No weird smell, great for applying BEFORE and AFTER makeup application, some people also use this to "set" their makeup, I merely use it before makeup application as I use Model in a Bottle to set my makeup. It also has an awesome "no-spill" nozzle great for traveling. Another great use? It's an awesome mixing medium too! I spray a little on my brush (with a napkin behind my brush to prevent mess) and my brush is ready for foiling!

CONS: Be careful not to spray too much of this product on your skin or on your brush for foiling, it can get really sticky because I think the concentration of glycerin is higher than there is water, and too much glycerin on your eyelid can sting. If you happened to put too much, just spray a little water to dissolute the glycerin.

Overall: I love this spray, it's really neat to just have. Lately it's been so hot so I just spritz this baby lightly over my face and let it set in, once it dries my skin feels a lot softer and supple. I also use it as a mixing medium and have had awesome results. The one thing about making your own mixing medium, is that your solution can be more water than glycerin which can be a good thing!

Slide cap to the left to close!