The BF has been super nice to me lately, making me wonder what he did wrong, LOL. He took me shopping 2 days in a row, and honestly I haven't been lemming anything lately, BUT since he insisted (LOL), we went to the MAC store of course, and hey I saved him money since I used my PRO card!

I ordered some items from MACPRO online that aren't available at the free-standing MAC stores, such as the gel and water Mixing Medium for traveling (and because I get lazy to mix glycerin and water sometimes), "Bio-Green" eyeshadow(PRO), and "Sockhop" Lipglass which wasn't available at any of the stores near me.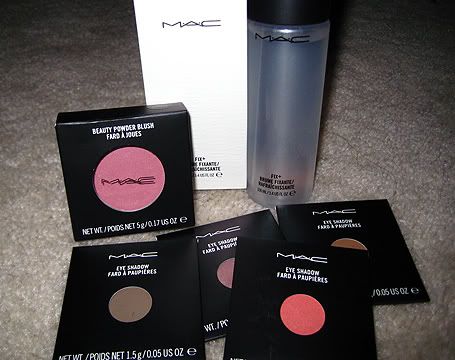 Then we went to the Topanga mall and he bought me:

- MAC Fix+ Spray which so far is AWESOME! I used it last night and it made my skin super duper soft! I will list the ingredients later, but from my memory, it has camellia and green tea extracts. You can spray it on your face before or after makeup for a nice refreshing pick me up, or after your makeup to set it.
- Eyeshadow Pans for my palette: Paradisco, Coquette, Soba (love it!), and Star Violet (which im returning because when I got home, it wasn't the color in the store!)
- MAC Beauty Powder in "True Romantic", I LOVVVVVVVVE this blush! Reminds me of "Fun N Flirty", gorgeous pink/plum shade with a hint of shimmer.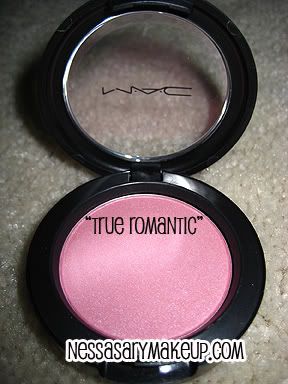 Here is a swatch of Milani's "Sea Angel" which is a dead ringer for "Mood Ring" from Heatherette:



Random blush comparison: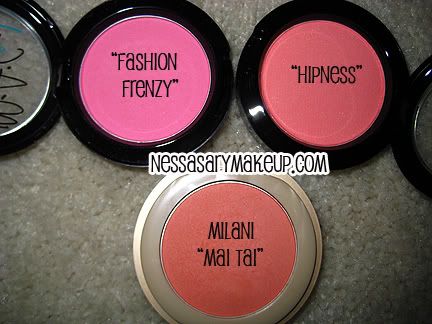 Makeup Fix Spray: