Here was my Earth Day FOTD, using Ben Nye's "Chartreuse", Pure Luxe's "Venom", MAC "Humid" eyeshadow, and of course "Bio Green". I also used a little bit of Ben Nye's "Sun Yellow" and "Aztec Gold" washed over the inner corners...

I will be doing a look using the Ben Nye Palette, so stay tuned!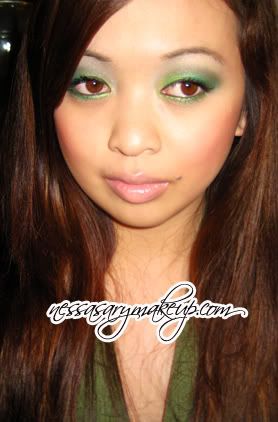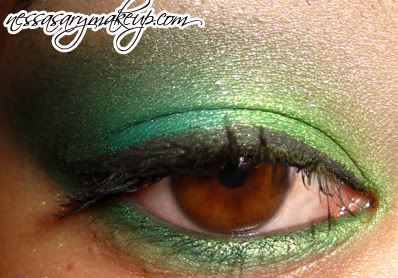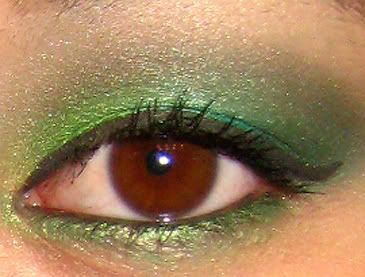 What I used:

Face:
- MAC Fix+ Spray
- Monistat Chafing Gel as primer
- MAC StudioFinish Concealer NC30
- Pure Luxe Foundation in "Warm Honey"
- MAC Sculpt & Shape Powder in Accentuate and Sculpt on cheek bones to contour

Cheeks:
- MAC "Hipness" Blush
- EDM "Waffle Cone"

Eyes: (all applied DRY)
- Urban Decay Primer Potion
- Ben Nye (BN) e/s in "Aztec Gold" and a little "Sun Yellow" applied on the inner corners of the eyes
- BN's e/s in "Chartreuse" on inner half of the lid
- MAC "Bio Green" on the middle of the lid blended with "Chartreuse"
- Pure Luxe's e/s in "Venom" 3/4 of the lid (near outer half)
- MAC "Humid" e/s applied on outer-V and contour
- ULTA "Gold Leaf" as highlight
- Milani Color Brilliance Eye Pencil in Green on lower lashline
- MAC Fluidline in "Nightfish"
- L'Oreal Telescopic Mascara

Lips:
- MAC l/s in "Masque" (LE from "Alexander McQueen Collection)
- MAC l/g in "Bonus Beat"