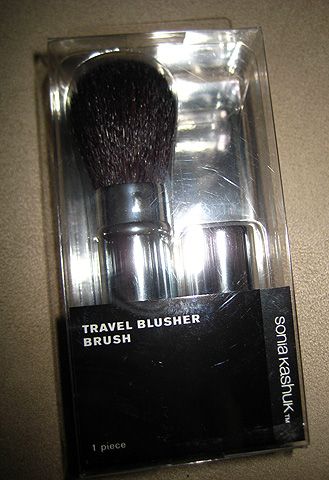 Product:
5 out of 5
Packaging
: 5 out of 5
Quality:
5 out of 5
Overall:
5 out of 5
Price:
$9.99 at Target
Similar items
: Foundation and Powder Brush also from Sonia
Would I buy again?
Yes
I was looking for a small retractable brush to keep in my makeup bag (since I have no idea where my other one went!). I like using a brush for touch ups as oppose to a powder puff when applying my MAC Sheer Powder to combat shinyness because powder puffs tend to hold a lot of bacteria (such as the sweat and dirt from your face).
I went to Target and saw this retractable blush brush from Sonia Kushuk. She has another one that's a foundation brush and powder brush in one (one on each end) for $14.99, but I just wanted something simple so ended up getting this one. Even though it's a blush brush, it's a perfect size for the touch ups I wanted to achieve. The bristles are made of natural hair and feel really soft to the touch. It retracts easily and pretty nifty for travel. It's almost the size of my hand, just so you can get an idea of how big it is.