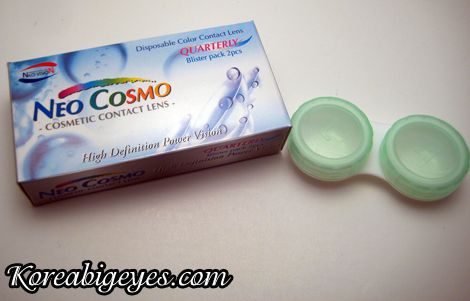 Colored contacts are so much fun to switch looks up, and even though there are so many websites that sell colored contacts, there are a few that have a nice array, including ones that are a bit unique- which I like, and
KoreaBigEyes.com
has an insane variety of circle lenses, including the "doll-eyed" enlarging lenses. They had really great customer service and I got my lenses in about 3 weeks. This particular color is pretty from far away because it gives a nice green ring around my brown eyes and it's definitely a different and unique look. Up close, it's obvious I am wearing them because of course since it's green, it doesn't wholesomely blend with my natural eye color (if this is what you are looking for, I suggest the brown color or even the gray ones might be nice). But I like this color in natural light, it looks really pretty.
I also wanted to do a brown smokey look (hence the 'Mint Chip' FOTD), so I used MAC's Paint Pot in "Constructivist" as a base to MAC's "Tea Time" pigment. Since I did this look a couple weeks ago (pre-photopsia!), I am gonna try my best to remember what I used, LOL. And don't mind my ugly brows, I am in the process of growing em out to re-shape them argh they frustrate me, haha.
What I used:
[Face]:
- MAC Studio Finish Concealer in NC 30
- MAC Pro LongWear Foundation in NC35
[Cheeks]:
- MAC "Enough Said" Blush
- Korres Bronzing Powder in #28
[Eyes]:
- MAC Paint Pot in "Constructivist" on lower lid
- MAC "Tea Time" pigment on lid
- Milani "Chocolate" eyeshadow and "Java Bean" on outer-V and contour
- MAC e/s in "Shroom" as highlight up to brow bone
- MAC Fluidline in "Blacktrack"
- Shiseido Mascara in Black
- MAC Technakohl e/l in "Graphblack" on waterline
- UD Eyeliner in "Corrupt" on lashline
[Lips]
- MAC lipstick in "Peachstock"
- MAC Lipglass in "Splashing"
Neo-Cosmo "Mint Green" Contacts in Natural Light