I haven't done smoky eyes in a long time so I thought id go with one of my old tutorials for the company Christmas Party last night. You can see this smoky eye tutorial
HERE
. The only difference is that I used MAC's greasepaint stick in "Slick Black" as the base. But still used my beloved "Black Ore" pigment. There was ice skating after dinner, but it was canceled due to the rain. :(
We did a Secret Santa thing at work which was fun, I got a Sephora gift card which I used to get the Hello Kitty Brush Set from the beauty insider private event on the Sephora website this morning, it's so cute! I love how the head comes off to reveal the brushes, MUCH better than th HK brush holder I bought from MAC's collection a couple years ago.
Anyway, I must finish up my Christmas shopping (my mom is so hard to shop for!), hope you all are having a great weekend!
Dress from Forever 21
What I used:
[Face]
- MAC Studio Fix Concealer in NC30
- MAC Pro LongWear foundation in NC35
[Cheeks]
- Korres Blush in Peach (#18)
[Eyes]
- MAC Greasepaint stick in "Slick Black" as eyeshadow base
- MAC "Black Ore" pigment on lower half of the lid
- Milani e/s in "Storm" on outer-v and a contour
- MAC e/s in "Vex" as highlight
- Revlon Liquid Eyeliner in "Black"
- Ardell lashes #106
- UD eyeliner in "Rockstar" on lower lashline
[Lips]
- HK lipstick (from MAC) in "Fashion Mews"
- NARS "Turkish Delight" lipgloss"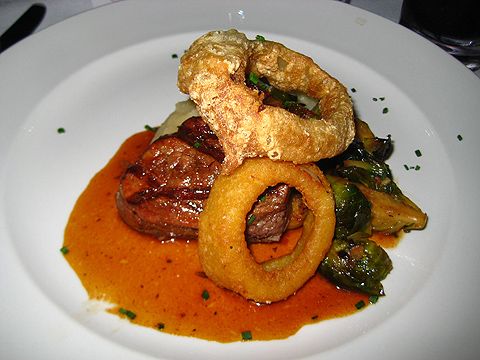 Dinner: Beef tenderloin with sourdough onion rings
Dessert!
Even HK is ready for the holidays!