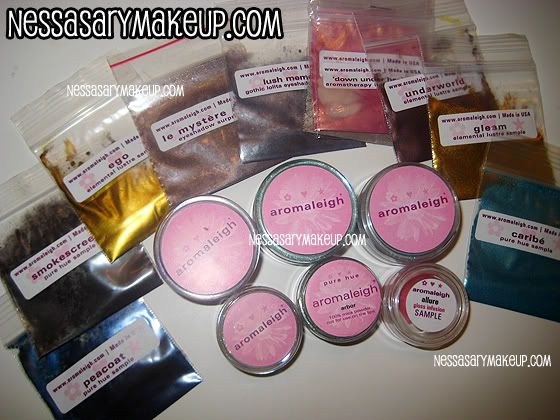 I love the colors of Aromaleigh, they are so gorgeous AND their full size jars have SOOOO much product for a great price!

I bought a few samples from them awhile ago and ended up buying the full-size jars since I loved the colors so much, I bought: Severina, Isadora, Penelope, Arbor, and Awe ; and also got a bunch of other samples.

Aromaleigh's "Elemental Lustre" eyeshadows are really pretty but may be too "shiny" for some people since they are metallic colors. The "Pure Hue" series have lots of pretty colors and I love how vibrant and pigmented the colors are.

I get a lot of questions on what the difference is or to compare among the different mineral companies and the answer is: price and quantity. Most of the mineral companies carry the exact same color or similar color and give it a different name, and of course have different sizes and prices, but overall all the ones I have tried from various mineral companies have phenomenal color-payoff, some sheerer than others, while are some are more vibrant, you just have to shop around to "find" the best deal. I for one, tend to shop on sites where I can buy more products under one shipping price, rather than ordering 10 different things from 10 different sites and doubling the cost. For this reason I like Aromaleigh, Everyday Minerals, PureLuxe, MadMinerals, Silk Naturals, MMBB, and a bunch of other sites. (You can check these sites out from the links on the right or Google it)

The NYX Ultra Pearl Pigments are more finely-milled and its texture reminds me of flour, hence they don't last as long to me as the mineral eyeshadows in general or the MAC Pigments because the latter is more gritty and easier to work with as well as blend.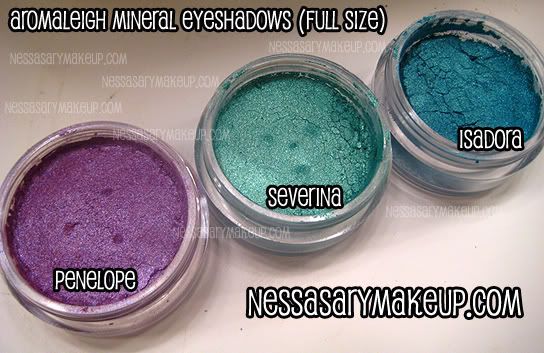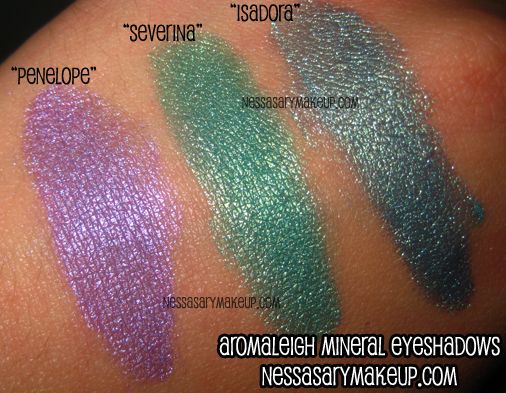 Using "Severina" (on bottom) and "Penelope":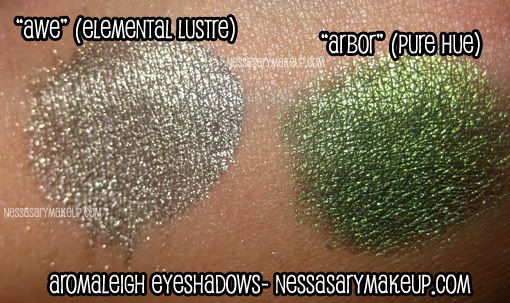 SAMPLE SWATCHES: