I am a sucker for all kinds of hair products that I am always willing to try any hair product that's new or unique. So it was no surprise I was eager to try the AVON anti-frizz capsules. My lovely neighbor Kelly who works in the office next to mine is my Avon Rep, or more like my Avon dealer! LOL, she also reads my blog, so hi Kelly!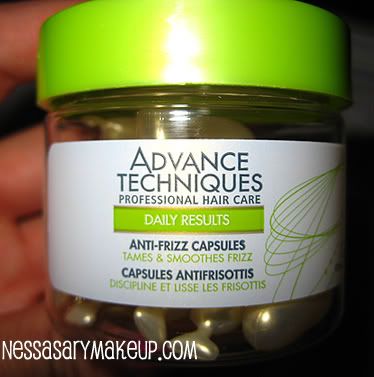 Product: 5 out of 5
Packaging: 4 out of 5
Quality: 5 out of 5
Price: Only $3.99! Available on AVON.COM

What it claims: Tames and smoothes frizz. For straight or curly hair. 18 capsules. .58 fl. oz.

PROS: I love the tiny capsules! It's cute and easy to use, and you know how much to put since there's the right amount in each capsule, just twist off the top, squeeze on your hand, rub together, and apply! My hair felt softer and shinier, I applied it right after the shower and my hair felt so much smoother! The small jar makes it easy to store as well as travel with, and it's only $3.99!

CONS: None! I love this stuff!

Overall: If you get those annoying frizzies or flyaways or just want some subtle shine, I suggest trying this. It's only $3.99 so there's really not much to lose!