I haven't done a FOTD for awhile...i've been so lazy to put makeup on since I have been busy dabbling in other things, so I finally had a chance to do a quick look using a couple of the eyeshadows from the Cool Heat collection. It was much more vibrant in person, but the flash washed it out a bit.

I also used the Fyrinnae foundation, "Sunstone" in Matte finish which I like a lot better than the Super Power one, Joppa minerals has a nice finish but comes out a little too tan as well as being a little too thick, so I am gonna try applying it with the 187 stippling brush instead of the 180 because the 180 is so dense I think it's packing it on rather than allowing me to build my desired coverage. I already ordered the full-size Fyrinnae Foundation in "Sunstone", I LOVE the coverage and it matches me pretty well considering I didn't mix it with anything...

Don't mind the eyebrows, I haven't played with my Anastasia stuff yet! :)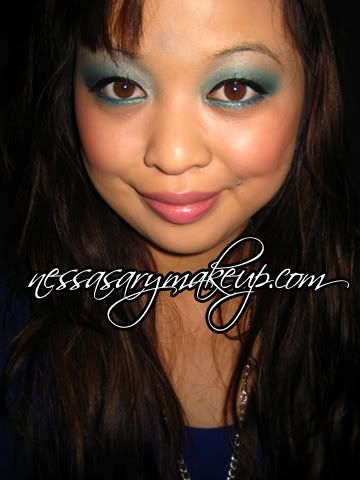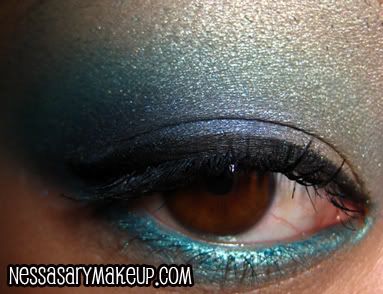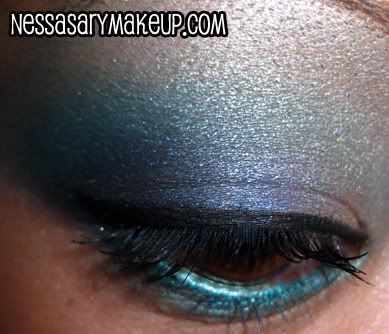 Face:
- Mario Badescu Buttermilk Moisturizer
- Monistat Primer
- Fyrinnae Regular Mineral Foundation in "Sunstone" (Matte)

Cheeks:
- MAC Blush in "Flirt & Tease"

Eyes:
- MUFE Full Cover Concealer #8
- MAC StudioFinish Concealer in NC30
- MAC PP in "Soft Ochre" all over the lid as base
- MAC e/s in "Warming Trend" all over the lid
- MAC e/s in "Gulf Stream" on contour
- MAC e/s in "Deep Truth" on Outer-V
- Milani e/s in "Blue Ice" on the middle of the lid
- Styli-style eye pencil in "Venice" on lower lashline
- Revlon Colorstay Eyeliner in "Black"
- L'Oreal Telescopic Mascara in "Blackest Black"

Lips:
- MAC Slimshine in "Pleasing"