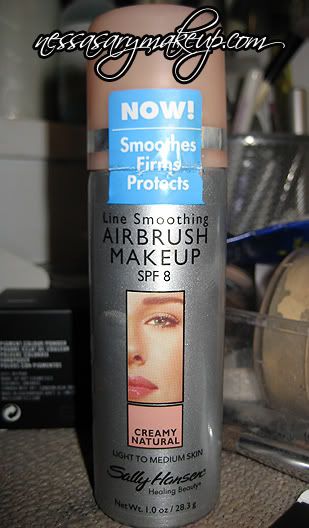 Product: 4 out of 5
Packaging: 5 out of 5
Quality: 5 out of 5
Overall: 4 out of 5
Price: $7-$8, K-Mart, other drugstores (I think Rite-Aid might have it), Sallyhansen.com
Colors in comes in: No color(primer), Creamy Natural, Beach Beige, and Nude
Color I tested: "Creamy Natural"

What they claim:
* Revolutionary liquid makeup in an aerosol can provides a flawless, airbrush look.
* With SPF 8 sunburn protection.
* Lightweight formula imparts an invisible, impeccable finish.
* Long-wearing.
* Water-resistant.
* Dermatologist Tested - Hypoallergenic - Fragrance Free.

Special Ingredients:
Special combination of Vitamins A, C & E help improve skin with every use.

I was strolling down K-Mart (I actually like the K-Mart by my house because no one is ever in that store, lol) and came across the Sally Hansen Airbrush Makeup Spray which i've seen before and passed by so many times (before I started this blog!), so I decided to try it out since it was only $7! I have to admit, I had my doubts since I don't really like Sally Hansen products other than her nail products, I was honestly expecting to return it, but I love it!

PROS: It comes in a small sized can which is great for traveling, but don't let the size fool you, because this lasts awhile. It gives AMAZING coverage and I personally think is a good dupe of MAC's StudioMist Foundation, I have sensitive skin and I did NOT break out from this spray at all so that's always a plus. The foundation itself was a bit light for me (creamy natural), but you can always use it as a good base to cover any blemishes or acne scars and then just lightly put your mineral foundation over it to really give your skin a nice sexy airbrushed look! And it lasted pretty much all day for me. It also has SPF. It's only $7 and I think it's fairly easy to find at some drugstores (not all drugstores will have it so you can go to the Sally Hansen site and do a store locater or call your neigborhood store in advance).

CONS: They only have 3 choices of colors which sucks because we all know that isn't enough! Which is why I gave it 4 out of 5! (No color(primer), Creamy Natural, Beach Beige, and Nude), also if you have certain colored undertones it may look "orangey" on some people like if you have pink undertones, so test accordingly. Be careful not to put TOO much or else it may look cakey or give you a melted look at the end of the day, you only need a little bit!

Overall? I really liked this considering it gives amazing coverage and it's only $7 which is great for us gals who are on a budget, or for those who travel and just want something quick and easy without all the mess. I would definitely buy this again if they had more colors to choose from, but for now it's nice as a base in addition to your mineral foundation.

Method:
1. Spray some of the product on a large cap such as that of your mineral foundation jar. Spraying it directly on your face can be messy as well as giving you uneven coverage.

2. Take your buffer brush or flat top brush (I used the MAC #180 brush), and lightly dip and swirl your brush into the product.

3. Apply to your face as you would with your mineral foundation.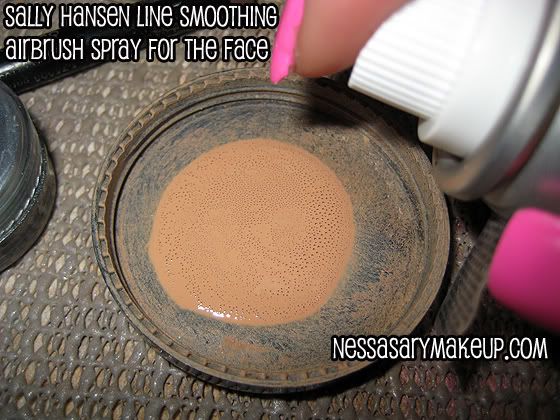 Good coverage eh?