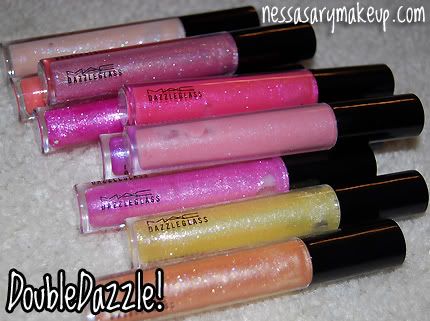 MAC released their Double Dazzle collection today, it was supposed to be April 30th but they bumped it up luckily! Unfortunately it's not on their website yet, but Nordstroms.com has 'em! They all look yummy! I love the Dazzleglasses ($18, each), when they first came out I nabbed "Baby Sparks" and "Funtabulous" and I am BEYOND HAPPY that all but 3 are permanent. (goldyrocks, utterly posh, and stop! look! are ALL LIMITED EDITION).

I didn't get to swatch all of them at the store, nor on my lips because the BF was being a bugaboo! LOL. So below are swatches of the ones I ended up getting, for those of you who never had a chance to try a Dazzleglass, they ARE sticky lipglosses, so be WARNED! Yes they are the lipglosses that your hair will stick to on a windy day making you look like Cousin It of the Addams family. And I know many of you ladies who hate super sticky lipglosses, but the one thing I love about 'em is that they last because they are stickier than MAC's lipglasses. They stay on like no other! I wore "Funtabulous" at my sister's party, and I didn't even have to re-apply a coat. I also like how they have super fine glitter so that it's wearable alone or even over lipsticks without making you look like you ate some greasy chicken! LOL. The only thing I noticed is that right out of the box, the brush for each gloss was really stiff which is normal since it's new, so just bend it to flex it a bit so it has movement for easy application on the lips.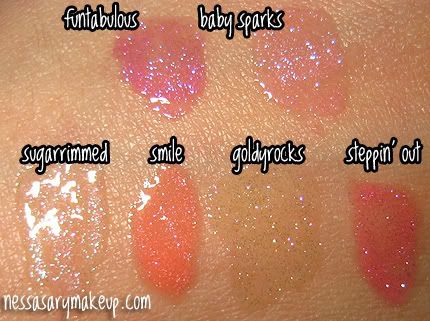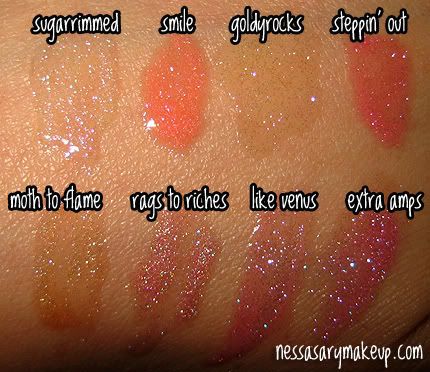 It's so hard to even pick a favorite because they all are gorgeous over lipsticks and really bring your lips to life! I must say though I love "Funtabulous", "Rags to Riches", "Smile", "Moth to Flame", and "Steppin' Out" they are even just pretty alone. "Goldyrocks" didn't wow me as much as I thought it would, it does have nice gold flecks, but the overall gloss was a bit too sheer for me which is great for those of you who don't want so much color in their gloss. To be honest, there are a few colors that start to look the same the more and more you look at it such as "Like Venus" and "Extra Amps", I had to keep swatching them over and over again to make sure I wasn't mixing up the two!

Nonetheless, I am glad that a majority of these are permanent so there is no need to rush and get them for the fear of them disappearing again, however I highly suggest to at least get ONE and you'll fall in love with it because they just make lips look luscious!