So what did I pick up from this collection? I picked up both beauty powders: "Blush of Youth" and "Summer Rose", "Silverthorn" eyeshadow, and "Magnetique" lipglass. I have "Mutiny" pigment from when the "Naughty Nauticals" collection came out. I forgot to get "Steal My Heart" lipglass, so I have to go back and get that! The see-thru lipcolors (lipstains) are pretty neat, but didn't tickle my fancy enough for me to get any of them (but let me tell you, they really stain and stay on! So that might me awesome for some of you looking for a sheer colored lipgloss that lasts). The MUA recommended wearing these see-thru lipcolors underneath your lipstick or lipgloss so when those layers wear off, you still have the stain underneath!

CLICK TO ENLARGE: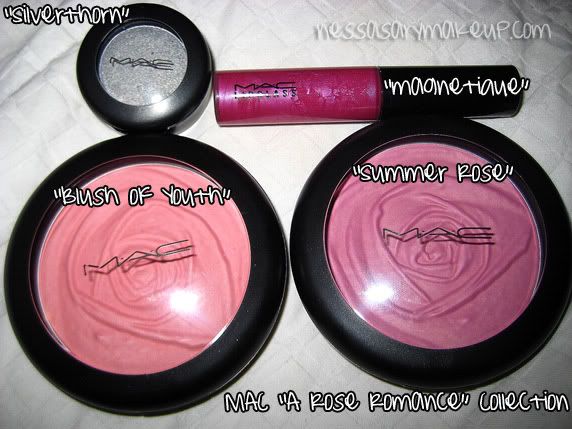 The lipsticks (A Rose Romance, Odyssey, Way to Love) were pretty but were TOO sheer for me, not to mention I have tons of lipsticks that look close to those colors (California Dreamin' and Curtsy, both LE) of course they may be slightly different from each other, but I really don't need that many pink-tinged lippies especially that are too sheer for my taste. And "Odyssey" is permanent, so no need to rush to get that.

The eyeshadows were bleh to me personally, I already have "Shadowy Lady" and "Creme de Violet, and the other ones "Of Summer" and "Et tu, Bouquet" seem like colors I would just "collect" but never put to any good use. Hence I only picked up "Silverthorn" (veluxe pearl) since it's really pretty and I don't have a lot of silver eyeshadows to begin with. It looks similar in color to MAC e/s in "Cumulus" from the "Blue Storm" collection except "Cumulus" is a tad bit darker and less shimmer, more on the matte side, and "Silverthorn" is a nice light-medium silver with an opalescent bluish tint to it. Definitely stands out!




The Beauty Powders have dainty embossed "rose petals" that you don't even want to touch it! I like the natural, barely-there look both of the beauty powders give, the only con I have, is that for my skintone, it takes quite a few swipes for it to even show the slightest bit of color on my face, I KNOW THEY ARE SUPPOSED TO BE SHEER, but I just wish they were pigmented just a pinch so there's less effort on my part, LOL. But at the same time, I DO LOVE that you can BUILD up the color gradually and not worry about overdoing it like other blushes (for example) where half a swipe is too much color. So this is definitely my favorites out of this collection because it gives a nice natural glow to the entire face or cheeks for those with light and medium skintones (not sure how it shows up on those with darker skintones). Although I must admit at times they almost look alike!

As for the gel blush, I didn't even give it a second look to be honest. For one, I personally am not into cheek stains, not that I don't necessarily like them, I just prefer powder form blushes, and of course it's the angel on my shoulder telling me I don't need it. :)

The Fix + Rose Spray smells super yummy, but that's about it. No different than MAC's current (and permanent) Fix+ spray which I still have a lot of, so passed on that.

The Nail Color "Love & Friendship" is a nice pretty rose color and looks really pretty on, but I am not into MAC nail polishes for some weird reason...so passed on that too.

What do I think are must-haves? BOTH of the beauty powders ("Blush of Youth" and "Summer Romance"), "Silverthorn" and "Of Summer" eyeshadows, "A Rose Romance" lipstick (I think this is perfect for others), the see-thru lipcolors, and "Magnetique" lipglass.

What are nice to have but not a necessity? "Shadowy Lady", "Creme de Violet", and "Odyssey" lipstick (as these are permanent),"Steal My Heart" lipglass, "Mutiny" and "Circa Plum" pigment, "Way to Love" lipstick, and "Just a pinch" gel blush is great for some of you...

I say skip: "Virgin Kiss" and "Et tu, Bouquet?"

***Sorry I was unable to do swatches of the entire collection, but there are tons of swatches online!***

I had to swatch the beauty powders on tissue since it's hard to see on my skin...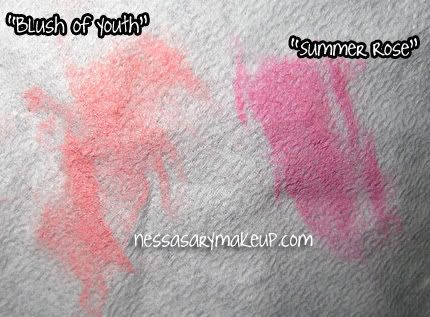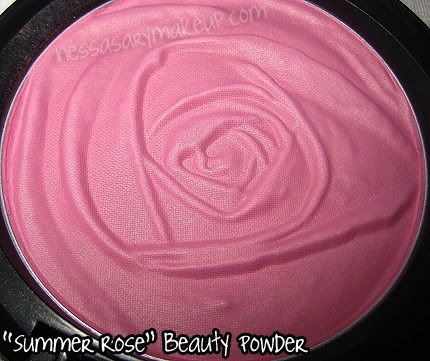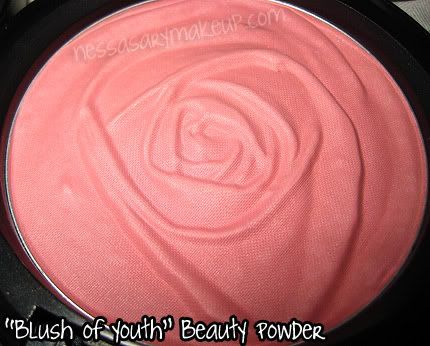 (Mutiny Pigment is the only one in this new collection)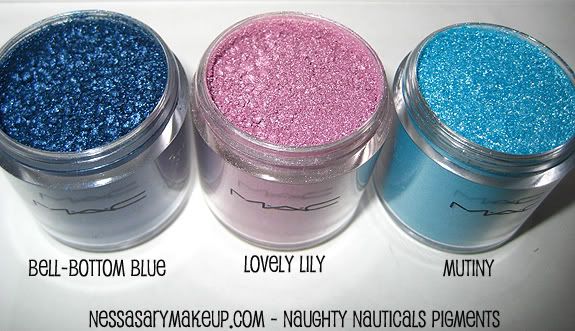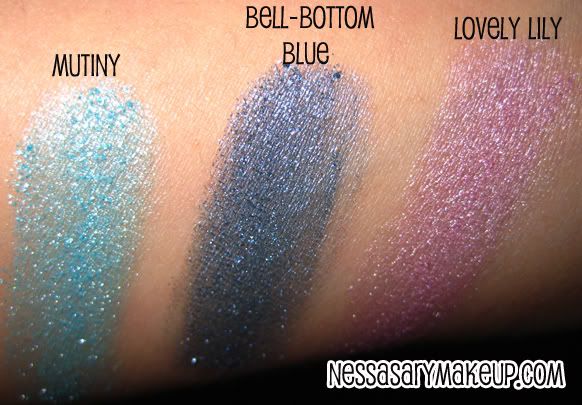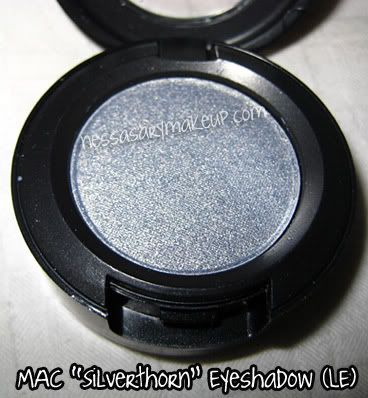 (NO FLASH)



(WITH FLASH)