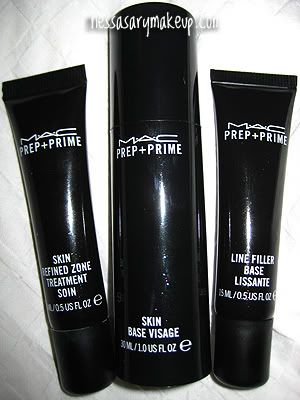 "A firm foundation is necessary for any building, institution, or individual to endure."
-- Elder Russell M. Nelson

Primers are essential to creating the perfect foundation for long-lasting makeup, creating a flawless and smooth canvas before applying your makeup. I recently picked up 3 MAC Prep + Prime primers: Face primer (base), Line Filler, and Skin Refined Zone Treatment. The tubes on the Skin Refined Zone Treatment and Line Filler are smaller in person, however a little goes a long way so it should last you a relatively long time. These are also officially part of the PERMANENT LINE in the MAC's Prep + Prime family, so there is no need to rush to nab one as they are definitely here to stay! (I did NOT buy the Prep + Prime Transparent Finishing Powder, I bought the MAC PRO Transparent (invisible) setting powder. The difference? The Prep + Prime one is of a finer grade, meaning the powder itself is more finely milled for a more "soft focus" type look). I will do a review on the PRO powder I bought soon.

In this post I will talk in depth about each of these primers and its uses, as well as how you can make the most out of them to achieve the perfect look.


The Prep + Prime Skin Refined Zone Treatment ($19.50) is described as "A light, oil-free emulsion that helps cloak visible pores while controlling oil and shine. Applies "wet" for a gentle micro-exfoliation: dries instantly to create an invisible, long-lasting natural matte finish. Ideal for the T-zone."

Overall: 4 out of 5 stars

Translation: You apply this OVER your moisturizer (let it dry in between), it's supposed to help minimize the look of pores as well as controlling oily areas of the face by absorbing the oils and giving you a shine-free face such as your t-zone area. The consistency is similar to that of a moisturizer except it feels more "thin" rather than thick, when applied to the face (like you would apply your moisturizer), it dries quickly to a nice matte, soft powder-like finish (and feel).

Overall: I like this prep + primet, it actually keeps me less-shiny than normal, and I love how I can use this on light or no makeup days to help me achieve a more natural look without looking like an oil slick later on in the day. However I don't feel like it's a "must-have". A good face primer or a mineral transparent powder such as Purely Cosmetics' Oil Absorb or Silk Primer are awesome alternative choices for oil control throughout the day.


MAC Prep + Prime Line Filler ($19.50), described as "A primer used post-foundation, pre-makeup to camouflage, soften and relax expression lines and wrinkles. Applies as a dense cream: dries to a transparent, smooth, natural matte finish. With ongoing use, clinically proven to help rejuvenate your look."

Overall: 5 out of 5

Translation: It's basically a primer for wrinkles, fine lines (such as under the eye, crows feet, frown lines around the mouth, etc) and invisibly "fills" these lines thus creating a smooth barrier for easier makeup application as well as minimizing the look of these lines by making them softer. In my Makeup Application Steps Post, I used the line filler under my eyes where I have a couple of lines (apply like you would an eye cream, pat or swipe a little dot), then apply your concealer > foundation for a flawless finish. As you notice in a few of the pictures from that post, my under eye looked really smooth and flawless after applying the Sonia Kushuk loose powder on top of the concealer, but it was the line filler that helped create the smooth canvas to begin with as well as keeping that delicate area moisturized.

Overall: This is a "must-have" for me, I love using it under my eye so that my concealer and powder goes over it smoothly. Consistency wise it's thicker than the Skin Refined Zone Treatment and when dry, your skin feels smooth like a face primer with that powder-like feel.


The good 'ol Prep + Prime Skin ($23), this has been around for awhile, and I like it A LOT better than the Prep + Prime Face Protect with SPF50 because it feels more like a primer, and less like a moisturizer which I love. It is described as "An ultra-fluid lotion formulated with special-effect silicones. Calms and soothes the skin, blots away excess oil, and evens out skin redness. Improves the laydown and application of foundation or powder."

Overall: 5 out of 5

Translation: A basic face primer for the face, to be applied AFTER your moisturizer and BEFORE foundation application. It creates a smooth surface on your face so that your foundation goes on flawlessly without any blotches or uneven tones or color.

Overall: This is one of the best primers I have used so far, it hasn't caused my skin to react in a crazy way, smells good, and is a lot cheaper than other primers I have tried. The best part is that it actually does its job. The primer itself is pure white and has an iridescent pearl-like shimmer or sheen to it, but does not show on your face, it's just completely a pure cream that dries to a matte finish.

CLICK TO ENLARGE: