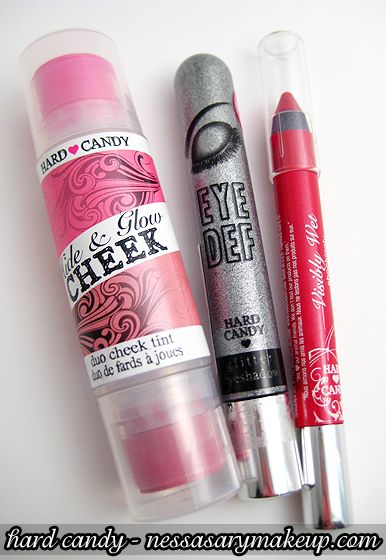 I was so happy when I saw Hard Candy products being sold at my local Wal-Mart (they are available at all Walmart locations), quality products at an affordable price- NOTHING is over $10! Two things I love about the Hard Candy brand is their massive variety on cosmetics; they have everything from nailpolish to body glitter, and how easily accessible it is to get. No dealing with the craziness of a mall or the hefty pricetag. There's something for everyone and they are constantly adding new products to their lineup such as their new collection for 2010 featuring some of the products below.

Hide and Glow Cheek
($6) which is a duo cheek tint, it's a double-ended stick that has two colors that complement one another and you can wear it alone or blend together. Comes in two other shades, "Hot Date" and "In Love". It's a lightweight formula (firmer than a cream stick) that blends evenly into the skin and lasts for hours. The shade I have is called "Pillow Talk" which is a nice soft rosy pink for a nice natural flush. It's definitely innovative and great to have in your purse or makeup bag. I can't wait to do a look using this blush!
Visibly Wet Glossy Lip Pencil
's ($6) are AMAZING! They are the convenience of a lipstick and lipgloss in an easy to tote chunky pencil, and they are VERY pigmented! They come in 9 other shades and I will definitely be getting more of these! They really do look glossy on the lips but they have pretty good staying power like a lipstick. (the swatch below doesn't even do it justice, it's a deeper and brighter pink!)
Eye Def Glittering Cream Eyeshadow
($6), I am not a fan of cream eyeshadows to begin with, they never stay on my lids and crease like crazy, but I was hoping this particular one would work out since the color is amazing, but alas, it creased too, even with an eyeshadow primer. However, they do have phenomenal staying power and once dry, can at least provide some sort of shimmer to your lids, albeit they are hard to apply. I tried the shade "Robot" and they come in 7 other shades. If any of you have tried this and have a handle on how to rock this, let me know, I am very curious. :)
My feeble attempt at trying to work with "Robot", FAIL!
Glamoflauge – A heavy duty, highly pigmented, multi-use concealer that delivers ultimate coverage. The formula blends seamlessly into skin with plenty of play time creating a flawless and natural look perfect for any occasion. You can hide everything from dark circles and blemishes to tattoos. 3 shades will match most skin tones. $6

Hide & Glow Cheek – A cheek tint that brightens cheeks for a just pinched natural flush. Lightweight formula blends evenly into skin and last for hours. Two perfectly coordinated shades – wear alone or blend together. $6

Glow All The Way – This pearly, luminizing highlighter illuminates all skin tones. Apply to face or body for a luminous, sun-kissed bronze or pearlescent glow. Infused with 24 Karat gold – and much more than a drop – this product will make you feel like a million bucks! Available in bronze and pink. $8

Big Curls Don't Cry – they asked for it and it's finally here:

Hard

Candy

's Waterproof mascara. Offered in black, Big Curls Don't Cry will prevent your color from dripping in all weather conditions. $6

Inked Up – Make a statement with

Hard

Candy

's Inked Up body art kit. Experiment with no regrets. Medical grade ink makes these temporary tattoos look as close to real as we've ever seen. Custom design bracelets, anklets and art anywhere, anytime. Available in Birds & Branches or Hearts & Crowns. Each kit comes with 3 sheets of chain art and 3 sheets of icons. $5

Show Girl's Secret Glitter Glue – A Show Girl's Secret to sparkle and glamour! Put a few drops of glitter glue in the cap, dip brush in, then dip into Show Girl loose glitter for a true, long lasting sparkle on face and body. Can be applied to eyelids or any other skin surface. This is the perfect product for dancers, cheerleaders, Halloween costumes and anytime you need that all night glitter! $5

Eye Def – A unique formula that coats the lid with super fine glitter and a base shadow color. Coverage and sparkle in one application that will not budge all day under any circumstances (rubbing, blinking, etc.). Ultra-pigmented shades are infused with flecks and an oversized, angled, doe foot applicator. These are 8 shades you MUST see to believe! $6

Mini Must Haves – Naturally Naughty (a natural palette) and Bad Girl Next Door (a smokey palette) are brand new

Hard

Candy

kits that contain mini versions of: Lash Tinsel, Take me Out liner, Eyeshadow Primer, Ginormous Mascara and 2 Kal-eye-descope shades.

First Flush (a just blushed palette) contains mini versions of Sheer Envy Face Primer, Blush Crush, Plumping Serum and Glow All The Way. Glamazon Glow (a sun-kissed palette) contains mini versions of: Sheer Envy Face Primer, So Baked Bronzer, Plexi Gloss and Glow All The Way. Both kits are new to the

Hard

Candy

collection. All four kits retail for $8

Limited Edition Just Nails – 4 new trend setting shades and a matte top coats that will transform any color from shiny and glossy to a matte finish in seconds. Look for our first reintroduction of heritage shades as we welcome back SKY – the polish that kicked off the brand. $5