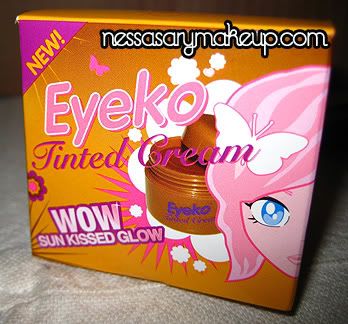 I had the opportunity to try the Eyeko Tinted Cream which I was really excited about because I love tinted moisturizers, especially when you are trying to go for the "no-makeup" look or the glowy bronze look which is perfect during the summer. On days you don't want to wear full on foundation a tinted moisturizer covers your flaws or discolorations while moisturizing your face at the same time and you don't feel like you have anything on.

The Eyeko Tinted Cream is a three in one cream: Tinted moisturizer, eye cream, and a highlighter which creates a flawless base., making it a great makeup primer. It has an antioxidant boost and Vitamins C, A, and E for radiant skin with a sun kissed glow. It comes in a small tub, the same size as a normal moisturizer, and it has a soft mousse like texture that isn't thick but feels a little thinner than your normal everyday moisturizer. It is pretty easy to apply, as a moisturizer or as an eye cream, you would just apply it as you would any other moisturizer or eye cream, and as a highlighter you can apply it on places you wish to highlight such as the cheekbones, or the collarbone because the Eyeko Tinted Cream provides a nice natural sheen which again, creates that subtle glow.

It's a dark brownish copper colored cream in the tub, but it does not go on that dark, so don't worry about it being too dark for your skin tone because once you rub it into your skin, it disappears and all you have left on your skin is a subtle golden shimmer which can really bring out your features; especially when used as a makeup primer. You can apply your foundation on top if the Eyeko Tinted Cream (once it dries), and it can really enhance your look and give you a nice natural glow. You can probably even use it on your legs or arms as well, or to even enhance your summer tan. It doesn't have a strong fragrance or an overpowering smell, it's kind of hard to describe, but it's a light scent similar to that of a neutral moisturizer and sunblock lotion.

It's a great tinted moisturizer for the face and body, or anywhere you want a little shimmer. It only comes in one color and the tub is big enough to last you a really long time! And it's only $12 on CherryCulture.com!