Happy Thanksgiving Y'all! Hope you are enjoying the holiday with your loved ones! What are your plans for today?

As you can tell, my posts have declined. Why? I have been incredibly busy, and someone mentioned that she likes that I post/update everyday and that she hates that there are bloggers who make an "excuse" to not update. As much as I appreciate the compliment, I have to disagree simply because people forget that we are people too with REAL lives beyond the blogging world. As much as I would love to update all day and everyday, I can't. I unfortunately do not get paid to blog and on top of that I have products sent to me to review all the time, so it's a lot of testing and articles to write, in addition to my OWN posts. So yes I get exhausted where I find myself sleeping 4 hours a night- and to me that's fact and not an excuse. Above all, I have to think of the main reason I started this blog- for me. It was my way of keeping track of the products I used for a certain look, or as a tool for close friends- with me as the guinea pig for makeup and beauty products.

I have a FULL TIME job from 8am-5pm, my day starts at 5:30 am when I wake up, I come home to take a shower, relax, watch TV, or read, and unwind or just knock out. After staring in front of a computer for 9 hours at work, the last thing I wanna do sometimes is be ON a computer, let alone take pics, upload them, and then have to edit them. And watermarking them is necessary because people have been stealing my photos and entering them in makeup contests so that they have a chance to win a prize from someone else's hard work. I think some people just forget to see that life itself is constantly changing; schedules and priorities change. I for one have always loved reading, and I wanted to take the time out to actually read all 4 of the 'Twilight' books and make some time for myself. I am not trying to sound whiny or anything, but just wanted to paint a clearer picture of why I have not posted as much. I have just been so wrapped up with work (since we just moved offices), as well as taking the time to enjoy the other hobbies I like to do (besides makeup), and of course preparing for the holidays! So I apologize to you all who have been so used to my daily posts, I think I have spoiled some of you, lol. But I just hope that you CAN somewhat understand that it's just me and that I DO try and get to all your emails and questions as fast as I can in addition to everything else- at times it's just hard balancing everything, but I am purposely not ignoring you! :)

So what am I thankful for? I am thankful for my family and friends, for the lovely, mature and down-to-earth people I have met both offline and online (you gals!), for my health as well as my family's health, for my boyfriend, my awesome and caring co-workers, my wonderful job, and for the strength God has given me which in turn has caused me to be more determined and motivated more than ever. And just for you new readers who have stumbled across this and for anyone who was gracious enough to give me a chance rather than just judging a book by its cover. I am forever grateful for having such positive people in my life. :)

Today I am just spending Thanksgiving with the BF's family since my family is scattered in various parts of Canada and Washington, but at least for Christmas I get to see my sisters and 'rents.

Here is a pic of the new office (in the front) but it goes all the way around the back; they are changing out the receptionist desk, so the one here is the old one. It's pretty huge in comparison to the last two offices we had considering we are growing as a company and are continuously adding onto our crew. I started with this company since 2005 as the only girl, when there were only 5 people at the ENTIRE company (as it was just starting), and now in 2008, there are now about 35-40 people including our programmers. Crazy isn't it? And because we are growing, I am now managing one of our sister companies as well, hence why all my time has been towards my job.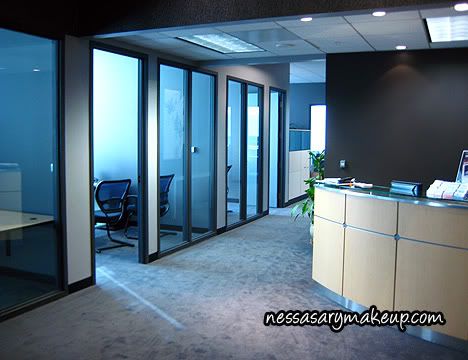 My desk, and yeah I have a picture of Robert Pattinson (Edward Cullen from 'Twilight') hanging on my desk because it was a little inside joke that I just ended up leaving it there, LOL. I HAD to put up my little Christmas tree since Xmas is my favorite holiday!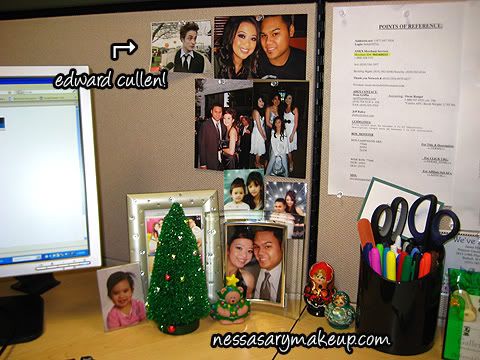 And so what Thanksgiving look am I sporting? Well gotta stick with browns like the color of the Turkey! HAHA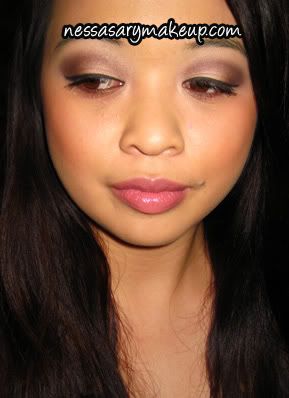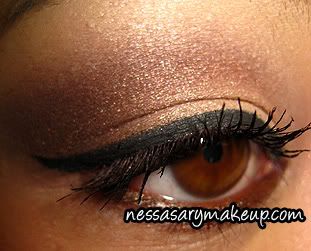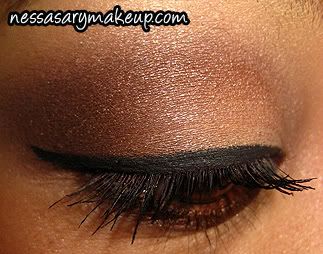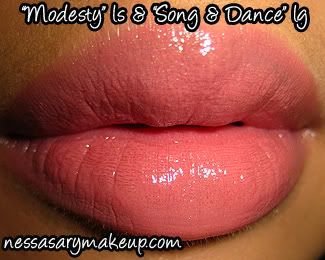 What I used:
[Face]
- MUFE HD Primer in "Mauve"
- Lorac Concealer Stick
- MAC StudioFinish Concealer in NC35
- MUFE HD Foundation in #127
- Dusted a bit of Purely Cosmetics Mineral Foundation in "Olive Beige" to set

[Cheeks]
- MAC blush in "Springsheen"
- MAC beauty blush in "Nuance"
- Milani Blush in "Luminous"

[Eyes]
- MAC PP in "Soft Ochre"
- MAC e/s in "Shroom" and "Ricepaper" all over the lid
- MAC e/s in "Bisque" on lower half of the lid
- MAC e/s in "Shale", Milani "Java Bean" & "Chocolate" mixed together on crease/contour of the lid
- MAC e/s in "Dark Devotion" from this year's holiday palette on outer-V
- MAC Fluidline Eyeliner in "Nightfish" (LE)
- Covergirl Exactlights Mascara for Brown Eyes (review coming soon!)
- Urban Decay e/l in "Bourbon" on lower lashline

[Lips]
- MAC Cremesheen l/s in "Modesty"
- MAC l/g in "Song & Dance"(LE) from the pink holiday set