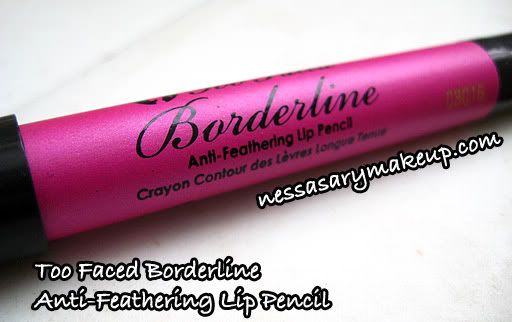 When Too Faced had their sale, I bought their Borderline Anti-Feathering Lip Pencil which is a clear-transparent thick lip pencil that you use to outline the borders of your lips to prevent feathering and bleeding of your lipstick or lipgloss basically keeping it "inside" the invisible border. You can also use it all over your lips for better control and hold for your lipstick or gloss.

Product: 4 out of 5
Packaging: 5 out of 5
Quality: 4 out of 5
Overall: 4 out of 5
Would I buy again? Yes
Price: $18.50, TooFaced.com, Sephora.com

They describe it as: Keep your lipstick and now even lip gloss from traveling beyond your lip's borders with Borderline; a matte colorless lip pencil designed to fill in and plump up vertical lip lines while it locks down your favorite lip products. Apply to the area just outside the natural lip line to forego feathering and pamper your pucker with skin soothing moisturizing and firming ingredients. Our one-color-fits-all wonder pencil will revolutionize the way you wear lip gloss. No more sloppy fading creeping color.

How to use:
-Smoothly sketch or draw Borderline on or around lip area.
-Create a natural lip shape by staying slightly inside the lip. To plump up lip shape apply around your lip area slightly outside your natural lip line.
-Fill lips in entirely for super control.

Magical Performance - Colorless protection lays an invisible layer to wear with any shade of lip color.
Flawless Pout - Provides an anti-feathering barrier for lipstick and lip gloss.
Lip Lock Down - Line within the natural lip shape or overdraw if necessary, Borderline will keep lip products right where you want!
Infinite Skin Tones - Matches any skin tone.

Ingredients: Trimethylolpropane Triisostearate, Petrolatum, Synthetic Beeswax, PPG-3 Benzyl Ether Myristate, Polyethylene, Mineral Oil, Oleyl Alcohol, Methylparaben, Propylparaben, BHT, Butylparaben, Citric Acid. May Contain (+/-): Mica.

PROS:
- No odor/smell- Completely odorless, just like wax
- Easy to apply, no tugging on the lips, similar consistency to that of chapstick
- Comes with its own sharpener
- Kept my lipstick "within the border"
- Feels moisturizing, doesn't give you that dry feeling

CONS:
- Lipstick/gloss doesn't last too long (like similar products like this)
- Price ($18.50 seems a lot to me for just wax, LOL) but I would buy it again

Overall? I like it, I am sure there are better ones out there, but this one works fine for me and keeps my lip color from bleeding outside the outlines of my lips. I rarely re-apply my lipstick/gloss when I am at work so I use it in the morning before I go to work and that's it...