I get a ton of questions regarding my hair and how I keep it so healthy; and to be honest- I treat my hair like crap sometimes! When I go to work I am usually in a hurry so it's either always tied in a ponytail, in a bun, or unbrushed! I am too lazy to straighten it or curl it on a regular basis (not to mention I try to avoid it altogether to prevent any damage), but occasionally I do use my flat iron or curling iron and when I do, I like to keep moisture in at the same time. In addition to heat sprays before you use a hot hair appliance, maintaining healthy hair starts with what you use in the shower. Whenever my hair feels dry, or brittle, I like putting in a ton of moisture in it to bring it back to life.

I had the opportunity to try this Moroccan Oil Hair Masque from BeautyChoice.com, and I was excited to try it because I love conditioning treatments! You leave them in for 3-5 minutes and your hair is so soft and smooth, making it a nice quick fix for soft healthy hair.

Product: 5 out of 5
Packaging: 5 out of 5
Quality: 4 out of 5
Overall: 5 out of 5
Price: $34.95 (8.5 oz., from Beautychoice.com
Would I buy again? YES!

Product Description: A rich, creamy treatment, designed to hydrate and repair damaged hair. With continued use, this highly effective mask revitalizes hair, restoring shine and manageability. To use: apply a teaspoon (more for longer hair) in the palm of your hand and distribute thoroughly through tower-dry hair, from scalp to ends. Leave in 5 – 10 minutes, rinse.

After shampooing, I left this conditioner in my hair for about 4 minutes and then rinsed like normal; after the shower and combing my hair, I can really feel the difference compared to how my hair felt before I got in the shower. It was soft, shiny, and smooth to the touch. It also made it easier to comb my hair. Since I have long hair, maintenance is tedious and brutal at times because there's just so much product and time that needs to go into keeping your hair healthy and looking good. I go through conditioner and shampoo so quickly, and with this conditioning masque, you only need a little bit of product to get good results, and the fact that it has Moroccan Oil is probably the key ingredient as oils are always good in putting back in moisture; which is why Ojon hair products work so well for me- the oils it has.

PROS:
- Smells good
- Huge tub to last you awhile
- Really made my hair super soft and shiny

CONS:
- May be pricey for some...

Overall? I love this conditioner a lot, it really is nice to use like 3 times a week, or those moments our hair needs a "pick me up". I know it may be pricey for some, but when it comes to my hair, I don't mind spending a little more considering I personally have noticed the difference between drugstore shampoos and conditioners as oppose to the pricier ones. Pantene Pro-V as well as many other shampoos contain alcohol in it, further drying out my hair; Ojon and this Moroccan Oil masque contain natural ingredients and oils that bring my hair back to life and keeps it lush, soft, and shiny.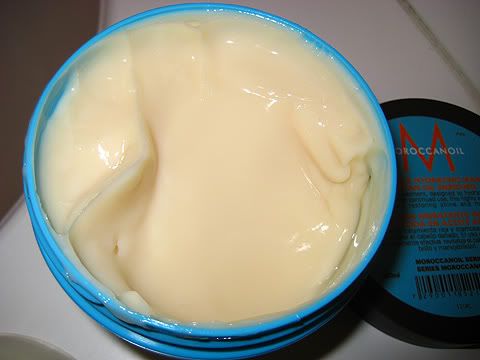 See how lovely this conditioner is?! So shiny! I also dyed my hair myself this time, Revlon's #34 Deep Burgundy. :)