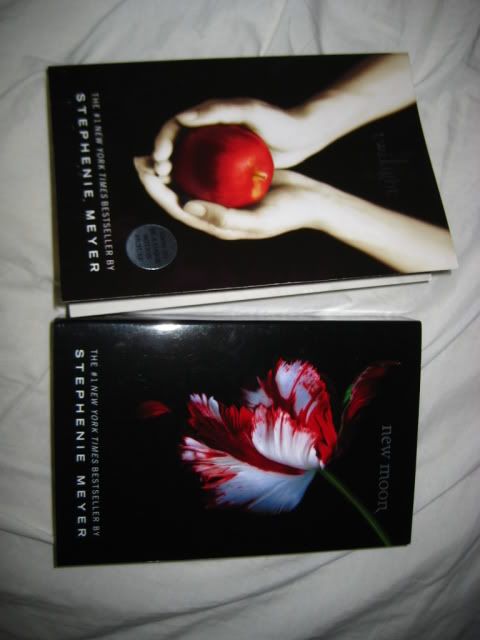 I am already done with #1 and #2 and I barely started reading it on Saturday! I can't put the book down, gotta love ROMANCE! LOL. I can't wait to see the movie!

***Many of you asked me to do a tutorial on the smokey eye I did a few posts down using the Smokey Palette (as well as the run down), I will be doing it this week! So stay tuned, and of course I did not forget your other requests, editing pictures as well finding time to actually do them takes time (which I hardly have nowadays!) so I am trying to post some older posts to get em outta the way, but it's coming :)!***

I recently acquired 2 new eye primers: Art Deco Eyeshadow Base & SheSpace's Black Eye Primer.

The Art Deco Eyeshadow Base is NOT available here in the US. I had it CP'd to me (custom purchase) thanks to a wonderful friend Gio, from Beautifulwithbrains. It is a UK product (notice I said UK product as in they have it there, but the brand is German) and it is VERY hard to find, although it's also available in other areas like Poland from what other readers have told me. I suggest finding someone in the UK to send it to you if you are interested. It costs around $10 USD.

The Art Deco Eyeshadow Base is tinier than I imagined, (or at least in comparison to the picture I have seen online of it), but nonetheless, there is plenty of product in there! It's a tiny black jar, easy to tote around. It has a fragrance to it, that reminds me of a men's cologne my dad used to wear called 'Brut'. So it's no surprise that he was the first person I thought about when I smelled it. The consistency is the same to that of UDPP or TFSI (Too Faced Shadow Insurance). It has a slight shimmer, barely noticeable to the eye, and it goes on clear. It holds my eyeshadow for most of the day, and of course adds vibrancy to my eyeshadows. The only con? Like I said, it's not an easy product to find! (It was hard to take a pic of it by itself as the camera would not catch it, sorry!)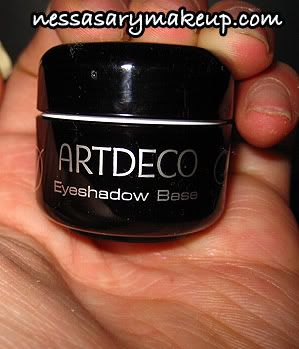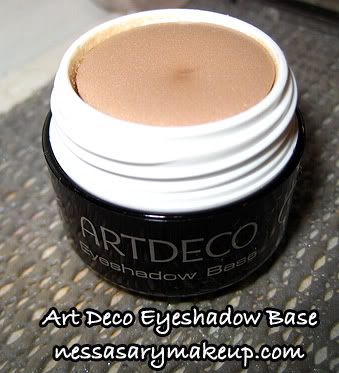 TheSheSpace Black Eye Primer adds vibrancy to eyeshadows. Although it works on certain colors (mainly darker ones), I tried it with "Fuchsia" MAC Pigment and it totally changed the color into a purple/pink, so if you are open to creating new colors, it's definitely neat to use, but if you are looking for a plain eyeshadow primer that WON'T alter the color, then stick with a colorless primer like UDPP or TFSI.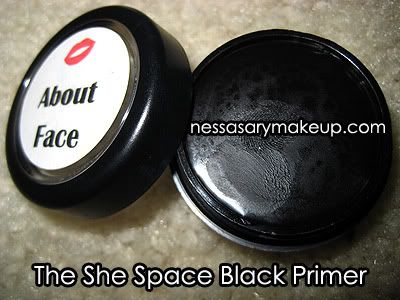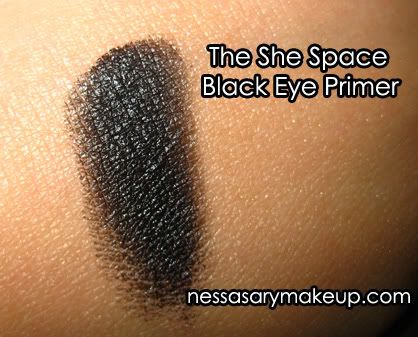 For these swatches I only used ONE loose pigment: MAC "Kelly Green" Pigment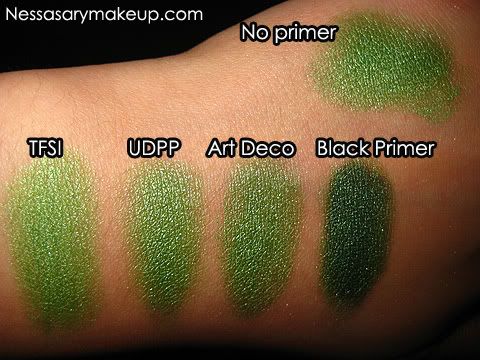 (About Face IS "The She Space" in case you are wondering, same company!)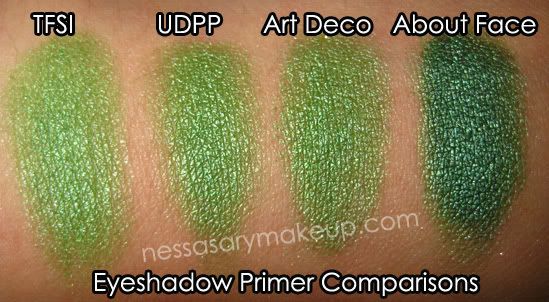 So how do these compare to each other? Well as you know, UDPP works better for me than TFSI. TFSI just didn't last long on my DRY lids. Art Deco has great staying power, easier to apply since it's in a pot, and the tiny shimmer it has really adds depth to my eyeshadows. The She Space black primer is great for certain colors, especially when it comes to creating an entirely new color that is also just as charming. (As you can see from my swatches). I can't really pick out "my favorite" since Art Deco and UDPP work about the same for me, and Art Deco is hard to find. The black primer is in a separate league of it's own considering it's not a clear base and alters certain pigment and eyeshadow colors.