Sorry for the lack of posts! We are moving offices at work so we've been packing and trying to work at the same time! Then I watched "Twilight" on Friday and I watched it again on Saturday with my friend Erica (hey I really want them to make "New Moon" and so happy that they are! So I had to help them meet their mark, lol). I won't spoil it for you ladies who have not seen the movie yet, but MY personal little movie review is that you should really read the book before you watch the movie in order to understand it. They took A LOT of the good parts out (essential parts in my opinion), and I know they had a limited budget AND it's tough condensing a huge book into a 2 hour movie, but I was a bit disappointed that they didn't develop Edward and Bella's relationship a bit more in the movie like it's done in the book. It was literally like they went from I want to kill to you, I hate you, to I love you in a span of a day (unlike in the book where it progressed)...but I still LOVED the movie just because of the eyecandy, Edward Cullen. LOL.

So I hope that "New Moon" will be A LOT better and stay true to the book, assuming they will have more of a budget for this movie...we'll see!

Anyway, here is a quick look I did the other day using last year's MAC holiday "Cool Eyes" palette...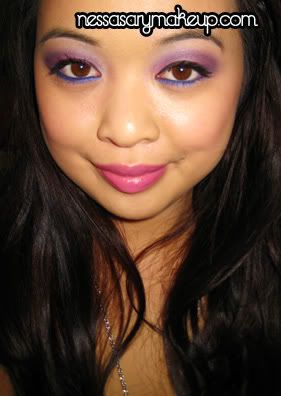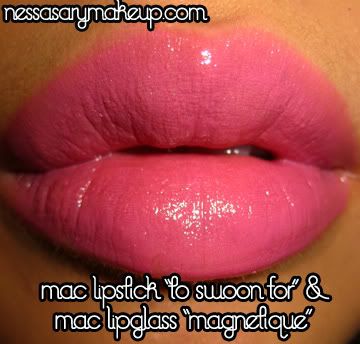 What I used:

[Face]
- MUFE HD Primer in Mauve
- MAC Studio Fix Concealer in NC35
- Fyrinnae Mineral Foundation in "Sunstone"

[Cheeks]
- MAC Blush in "True Romantic"

[Eyes]
- MAC PP in "Painterly"
- MAC e/s in "Medallion" all over the lid (from last year's antiquitease "cool eyes" palette)
- Beauty UK e/s (the pink e/s on lower half of the lid)
- MAC e/s in "Trophy Pink" on top of Beauty UK e/s
- MAC e/s in "Modern Heir" and Beauty UK Purple e/s on contour/crease
- MAC e/s in "Shadowy Lady" on outer-V
- Urban Decay Glide Eyeliner in "Lust" on lower lashline
- MAC Fluidline in "Blacktrack"
- Exactlights mascara

[Lips]
- MAC l/s "To Swoon For" (LE)
- MAC l/g "Magnetique" (LE)