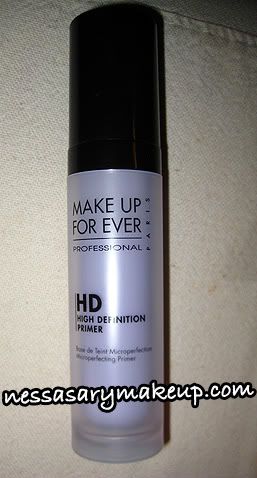 Woot! I am back with my product reviews! And I got a few emails asking about these recent fires, and no thankfully I was NOT affected this time, but thanks for your concern though! I appreciate it, but luckily it wasn't by me! So FINALLY I am doing a review on this primer since it's been on my vanity for about a month or so now waiting for me to do a review on it! :)

Product: 4 out of 5
Packaging: 5 out of 5
Product: 3.5 out of 5
Quality: 4 out of 5
Overall: 4 out of 5
Price: $32, Sephora.com
Would I re-purchase? Yeah maybe...I think id also try another color...

What it is:
A lightweight, oil-free complexion corrector that enhances the skin's texture and primes the skin for makeup application.

What it does:
HD Microperfecting Primer deeply nourishes, moisturizes, and softens the skin, creating a glowing effect. Creates a protective layer on the skin allowing foundation to glide on easily and last longer.

What else you need to know:
The Sephora-exclusive primer comes in six color-correcting shades and one transparent shade.

PROS:
- I love the bottle and the pump, it's lovely and great to travel with
- The different colors represent color-correcting shades, for example the green one minimizes redness which is ideal for those with rosacea, the mauve (the one I have) counters sallow undertones, etc. (click on the Sephora link for what each color does).
- Smells like banana (at least mine does...hey I like banana!)
- The mauve really toned down the yellow undertones in my skin and made me look a bit brighter and luminous...

CONS:
- Too expensive for me, BUT it lasts a long time so it's probably worth it
- It FEELS like a moisturizer, and I don't like that feeling; I like the dimethicone feeling, similar to that of the Smashbox Photo Primer, Monistat Chafing Gel, as well as other primers. For some reason those primers (with dimethicone or any 'cone' in it) make me FEEL like I have primer on and I don't feel like my foundation is sinking in since it sorta 'sits' on top of my moisturizer preparing a smooth canvas on my face.
- Didn't really make my foundation last as much as some of the cheaper primers (such as the monistat gel or Jen's Camellia Rose Primer). (Feel free to type these in the search box if you want more info on these).

Overall? I love MUFE in general, so all their products never seize to amaze me; their primer is OKAY, I mean I can see myself buying it again, but I wouldn't call it my favorite and I am sure there are other primers out there that'll do what I need it to do: to help my foundation last and give me a flawless finish. The MUFE primer is too pricey for it to feel like another moisturizer, I would totally love if it had the same consistency as "normal" primers, but I would try out another color for its color-correcting purposes.