I really love the Kelly Green pigment, I decided to use "Ricepaper" as the highlight and the contour color (above the Kelly Green), I used "Scene". Sorry if the colors are a bit washed out, I took this at the end of the day...it's such a pretty green!

Keepin' it real! LOL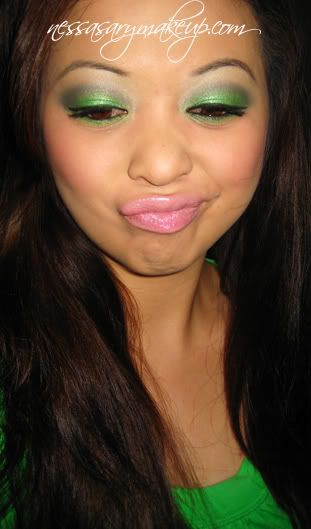 What I used:
Face:
- Monistat Chafing Gel as Primer
- MAC StudioFinish Concealer in NC30
- Silk Naturals Mineral Foundation in "Buttery Gold"

Cheeks:
- MAC Beauty Blush in "True Romantic"
- MAC Fafi "Hipness" Blush

Eyes:
- MAC PP in "Painterly" as base
- MAC e/s in "Ricepaper" all over the lid and highlight
- MAC pigment in "Kelly Green" applied wet with mixing medium on lower half of the lid
- MAC e/s in "Scene" on top of kelly green (contour)
- Revlon Colorstay Eyeliner in Black (and on lower lashline)
- Nixie Liquid Eyeliner in Black
- Ben Nye e/s in "Chartreuse" on lower lashline (applied dry)

Lips:
- MAC lipstick in "Myth"
- MAC Dazzleglass "Baby Sparks"