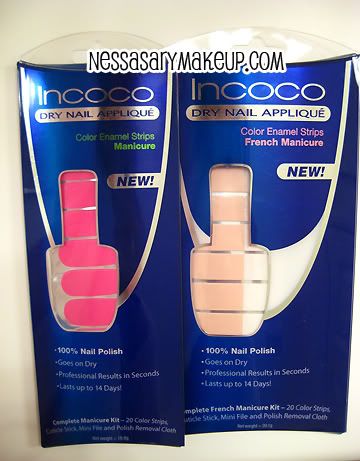 Product: 4 out of 5
Packaging: 5 out of 5
Quality: 5 out of 5
Overall: 5 out of 5
Price: $4-$6, Walgreens, Incoco.com
Colors Shown: "Flaunt" and "Fairy Dust" (French Manicure)

Awhile ago I did a review on the AVON Instant Manicure Nail Strips so you can compare the two or to see how to apply these revolutionary nail strips!

When I went to Walgreens a few days ago (same day I bought the Eco Tools brushes), I saw these Incoco Nail Strips which are very similar to the AVON nail strips. I have seen them around Walgreens for awhile but had tons of bottles of nailpolish and nail strips to get rid of first before I dare to buy one more thing I didn't need! LOL.

Also, many of you said you couldn't find the Eco Tools brushes at your neighborhood Walgreens, you really just gotta drive around and find the ones that are a rare gem, like the store locations in the middle of nowhere because they don't sell out of stock on certain items since hardly anyone goes there, so you are sure to find something all the time. There's a Walgreens on Reseda Blvd. and Devonshire (those of you who live in "The Valley" here in California should be familiar with those streets), and that Walgreens is ALWAYS sold out of stuff because everyone goes to that one. There's another Walgreens on Devonshire and De Soto (Tracy that's the one I go to!) and they have everything FULLY-STOCKED! No one really goes there because it's in the boonies at the end of the city where I live, off to the side and they had an ENTIRE wall of Eco Tools brushes and makeup!

So don't go to a CVS, Walgreens, or K-Mart that's always poppin' with shoppers that are taking your loot, go to the smaller, less-known stores that get the occasional elderly couple picking up their prescription, or the couple buying condoms, LOL, those are the ones where no one is really paying to the cosmetic aisle!

Anyway, on with the review!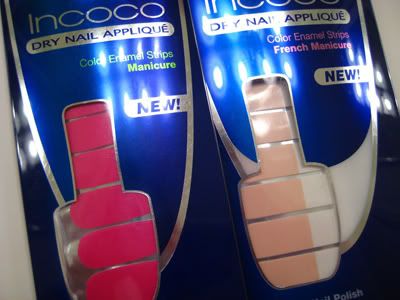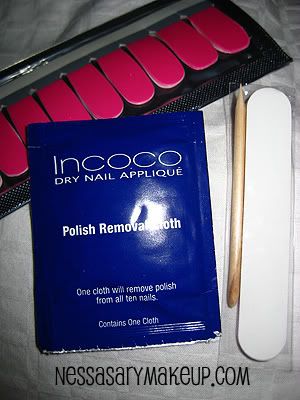 What they say: Lasts 14 days, you can re-adjust and re-position the nail strip on your nail.

PROS: Comes in a variety of colors including French Tip and really lasts! I have been wearing it for about 4 or 5 days now, and there is very MINIMAL chipping, it still looks good after all the horrible things I do to my nails. I type constantly, bang my fingers in drawers, bite them, and they still look decent! It was very easy to re-adjust the strip if I made a mistake, unlike the AVON nail strips which were hard to re-position because they would just stick to your nail and rip at the slightest movement so you had to get it right the first time. I also liked how each kit came with a cuticle pusher, nail file, and a nail polish remover which REALLY makes this baby ideal to take with you ANYWHERE. Traveling or a quick nailpolish change or touch-up, since no one really has the time to do their nails with bottled nailpolish then sit there and let it dry only to get knicked or smudged! And what a hassle taking a bottle of nailpolish, a nail file, nailpolish remover, base and top coat all in your purse. With these nail strips, a base coat and top coat is already in the nailstrip with the color, so you can apply nailpolish quickly and easily!

CONS: Not every nail strip caters to each individual's nail bed, they were either too small or too big on me so it would either not cover enough nail, or overlap my cuticle. But it's not too noticeable if it's too small, and can easily be fixed with nailpolish. Not too many stores carry this unfortunately, only Walgreens.

Overall: Definitely a must have in my travel and makeup kit! I love how one kit comes with everything you need for an instant manicure and if you are looking for something that's quick and lasts, you should definitely try these! They have a lot of colors to choose from, it's usually located on those stands by the aisles.

Don't mind my jacked up nails... :)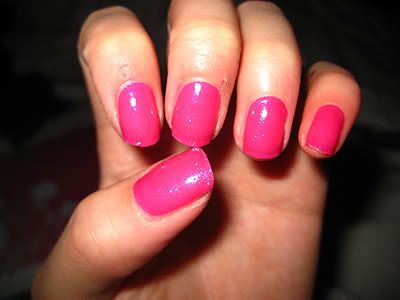 After 5 days, minimal chipping: