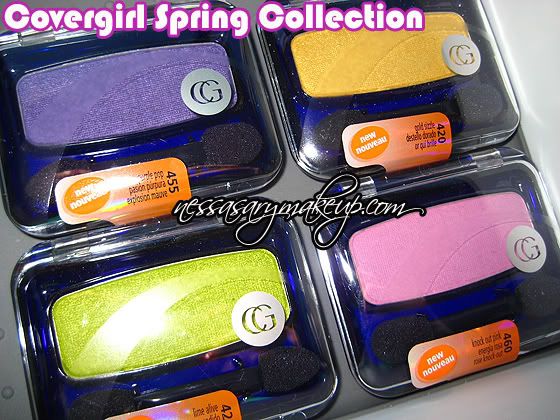 I walked into Target the other day when a row of bright colors caught my eye- it was Covergirl's new Spring Color Collection. They have about 8-10 new eyeshadow colors from lime, black, bronze, gold, to purple and pink.

I bought 4 of them, and was disappointed in the other 3, as you can tell by the swatches, they came out pretty sheer (unless I didn't press hard enough). The only one that was really pigmented was "Lime Alive", and that was actually a perfect dupe of MAC's "Eyepopping" from the C-Shock collection. "Gold Sizzle" is like the "Golden Lemon" pigment but in eyeshadow form. They were only $3.14 each at Target, so hop on it ladies!

If you do not have a Target near you, you can check to see if they have it at your nearby drugstore. I haven't really seen them out yet everywhere, so you might want to call and find out!