Product: 5 out of 5
Packaging: 5 out of 5
Quality: 5 out of 5
Price: 5 out of 5
Overall: 5 out of 5
Price: $7-$8, drugstores

What they claim:

-Prevents creasing and fading for 8 hours.
-Use this unique eye shadow base to prevent creasing or fading, and to extend wear up to 8 hours.
-Can be used with powder, cream or gloss shadows.
-One universal shade suits all skin tones.
-Ophthalmologist tested.
-Fragrance free.

PROS: Same consistency as Urban Decay's Primer Potion (UDPP), this one is a bit creamier which may make it easier for some of you to work with, and it dries to a nice finish so you can apply your eyeshadows with no problem, like UDPP, it also enhances the vibrancy of your eyeshadows. You can find it easily, drugstores, Target, K-Mart, etc, it's also cheap! It comes on as a beige color that matches ALL skintones because it dries to an invisible finish. See-thru bottle so you see how much product you have left.

CONS: None!

Overall: It's a lot cheaper than the UDPP, and it's perfect for you gals on a budget!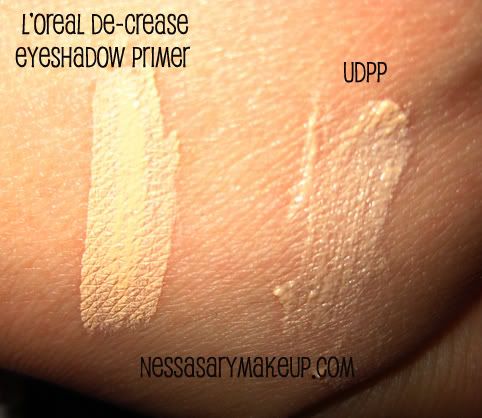 As vibrant as UDPP! (I accidentally put a little more eyeshadow on the UDPP side!)