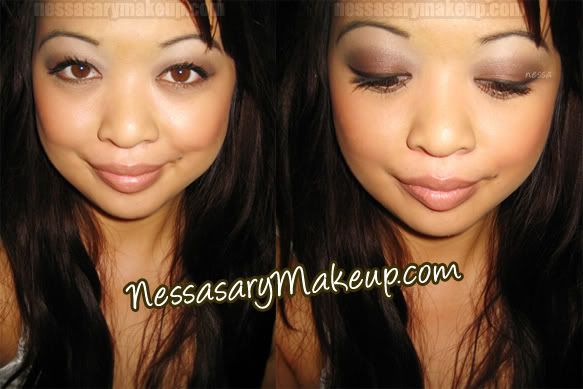 I thought id play with my new goodies that Robyn had sent me, I tried "Shimmering Bronze" mineral eyeshadow (also part of the 22-piece eyeshadow kit she has on her site, Purely Cosmetics) over the cream-to-powder eyeshadow in "Bronzed Brown" which reminds me of MAC Paint Pots in the sense that they have good staying powder and don't budge. They go on as a cream (and dream), and dry to a nice powder finish, so it's still easy to blend.

I love earthy brown colors, it's so simple and easy to do, not to mention how glowy it can make you look. I am definitely ready to get out of this heat-wave and get ready for fall!




I love "Shimmering Bronze" eyeshadow!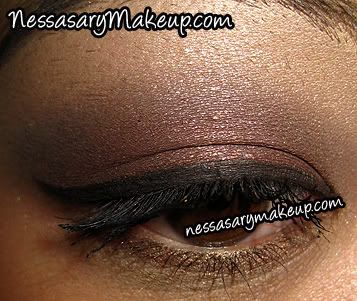 What I used:
[Face:]
- Monistat Primer
- MAC StudioFinish Concealer in NC35
- Purely Cosmetics Mineral Foundation in "Olive Beige"

[Cheeks:]
- MAC Sonic Chic Blush in "Warm Soul"
- MAC Blush in "Springsheen"

[Eyes:]
- Purely Cosmetics Cream to Powder Magic e/s in "Bronzed Brown" as base
- Purely Cosmetics Mineral Eyeshadow in "Shimmering Bronze" applied wet over base
- MAC Fluidline in "Blacktrack"
- Styli-Style Line & Seal Pencil in "Bronze" on lower lashline
- MUFE Fibers Lengthening Mascara Base (review coming soon)
- Too Faced Pinpoint Injection Mascara (review coming soon)

[Eyebrows:]
- Anastasia Eyebrow Tint Pen (review coming soon)

[Lips:]
- MAC "Myth" lipstick
- MAC "Honeymoon" lipstick from Moonbathe Collection